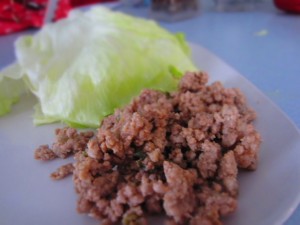 So I love pot stickers, deep fat frying them, how they make your clothes smell like fried food, and how your house smells for three days afterwards reminding you in a stale kind of way how good they tasted.
It was Sunday, and I wanted pot stickers, but I didn't want the work that goes into them and I didn't want the heavy deep fried after effects in my body. I resorted to a ground pork mixture wrapped in lettuce. This took no time at all and totally satisfied my pot sticker craving! Of course, if you want pot stickers now that I've been talking about them a bunch you can go here for my awesome recipe! http://dinnerforeveryone.com/?p=260
If you want a super easy, super fast, and super yummy alternative you can try out my Asian Lettuce Wraps!!!!
Asian Lettuce Wraps
by: Becca F. Fillmore, dinnerforeveryone.com
1 lb ground pork
1/4 teaspoon fresh ginger
heaping 1/4 cup green onions
3 garlic cloves
1 tablespoon rice vinegar
1 tablespoon soy sauce
1 1/2 tablespoon sesame oil
large lettuce leaves (iceberg, romaine, or any other large leafed lettuce works)
Start browning pork, add green onions, garlic and ginger. When fragrant add remaining ingredients (excluding lettuce). When pork is done use a slotted spoon to scoop onto lettuce leaves, roll lettuce and enjoy your wrap! These are SO delicious!