Avocados, pineapple, oranges, chicken, salad, and a homemade dressing equals a perfect meal!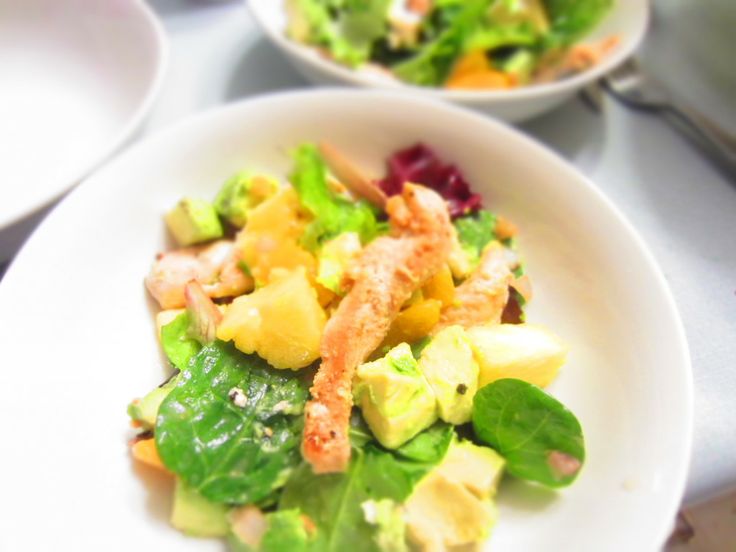 This is a great salad to throw together anytime of the year. It has a simple dressing that compliments the flavors of the greens, fruit, and chicken. It is always fun to have a salad where I could really taste everything!!!
Avocados were on sale for something like $0.49 each at my grocery store. So I grabbed a bunch of them (they were all good too by the way, no non-usable black mush on the inside, even on the ones I used days after I bought them). I wanted to just eat them all by myself, simply sprinkled with salt, because I'm like that. Then I thought I'd be nice and share with my family and make a dish to share with you too!
Now that I'm thinking of it, I should have experimented with them and made all those desserts out of them where you can replace butter for avocado and things like that…but I already ate them all.
Ok so back to the salad: my grocery store also had pineapples for $1 so I got one of those and we always have either canned mandarin oranges or those "little cuties" around, my son is on a salad eating rampage so I thought all these things would make a great combination with the avocados. I added some chicken and a homemade dressing and we had ourselves some dinner.
Everyone seemed to like it…ok well my daughter just picked out all of the pineapple chunks and ate those, but I felt like it was still a success, I mean she's two years old and now loves pineapple. That's pretty much a win!
Chicken Avocado Salad
by: Becca F. Fillmore
Dressing
2 tablespoon Dijon mustard
2 tablespoons apple cider vinegar
2 tablespoons olive oil
1/4 cup apple juice
1/2-1 teaspoon salt (or to taste)
Combine all ingredients.
For Salad
10 cups green salad
3 avocados, chopped into chunks
1 pineapple, chopped into chunks
1-2 cans mandarin oranges, drained
1 pound chicken, cut into strips or chunks and sauteed
Combine all salad ingredients and then pour dressing over top and toss.