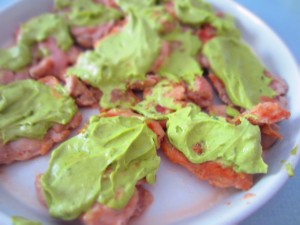 My husband and I are a little obsessed with avocados.  If you can put an avocado on something, we will! So it didn't take too long before I had the idea to smother some chicken thighs with avocados (brilliant! if I do say so myself). Ok so this isn't such an epic idea as I'm making it sound, but it sure tastes epic.
The part I really like about this meal is that it's easy to make a lot, but it isn't that typical meal someone would expect as a dinner guest. I know some people don't like avocados (I think there is something  seriously off in their brain), so I suppose this wouldn't be the dish for them. Most people I know, though, love avocados.
Some people say they like guacamole but aren't so sure about avocados…if that's the case, tell them this is guacamole chicken and they'll be good to go!
If you want the "I don't feel like cooking version" simply by pre-made guacamole and put that on top of the chicken!
Oh, and p.s. the color really does turn out as vibrant as the picture shows!!!
Avocado Chicken
by: Becca F. Fillmore, dinnerforeveryone.com
1 1/2 lbs chicken thighs
2 tablespoons butter
salt
pepper
1-2 avocados*
1/4 teaspoon garlic powder (to taste)
1/2 lemon, juiced
2 tablespoons olive oil
salt to taste
Salt and pepper your chicken thighs to your desired amount. Cook your chicken thighs over medium heat in melted butter (or omit using butter and bake at 350 for 30 minutes until cooked through). While cooking chicken scoop out the avocados, combine with juice of 1 lemon, 1/4 cup olive oil garlic powder and salt. If you want it extra creamy put it in the blender. If you don't mind it a bit chunky combine it with a potato masher or fork.
*For an "I don't feel like cooking" version, simply buy pre-made guacamole and put that on top instead of mixing the avocados and remaining ingredients.
When chicken is done simply smother it with the avocado mixture on top. Serve warm, eat slow, and enjoy the flavor!