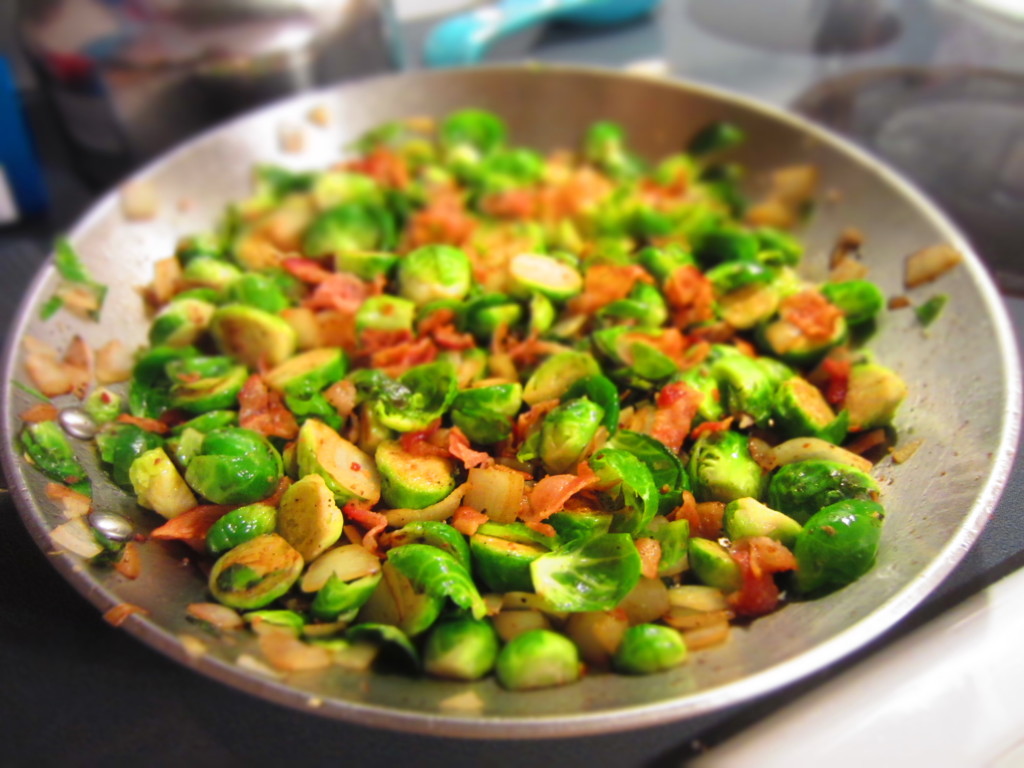 Ok, I called this "Bacon and Greens Side Dish" so you wouldn't get scared of the word brussel sprouts…but it's really a brussel sprout side dish. I was just hoping you'd give it a chance, that's all!
This is really simple to make, and I mean come on people, it has bacon in it…what is not to like????? All you have to do is cook up half a pound of bacon in a large frying pan, in some of the drippings saute up the onion and brussel sprouts. Chop up the bacon and add it back into the pan. Salt and Pepper and there you have it! A delicious side dish!
We made this as a side dish to the recipe our Gluten-Free Girl, Clare, recently posted; the Pesto & Herb Crock Pot Chicken. My husband had the idea of combining the two and after we tried it we actually ended up dumping this entire side dish right into the finished pesto chicken dish. We LOVED it! This side dish would pair nicely with so many different main dishes, it's one you are sure to enjoy!
Bacon and Greens Side Dish
by: Becca F. Fillmore, dinnerforeveryone.com
1 pound brussel sprouts, halved
1 onion, chopped
1/2 pound bacon, cooked and chopped
1/3 teaspoon ground pepper
salt (if desired, to taste)
Cook bacon in a large frying pan. Remove the cooked bacon from the pan and pour out most of the drippings, leaving a thin layer on the bottom of the pan. Add the chopped onion and your halved brussel sprouts and saute them until the onions are almost clear and your brussel sprouts are tender (feel free to add more drippings or olive oil if needed so you don't burn the sprouts). This takes about 7-10 minutes. Add salt and pepper and serve.
note on salt: If you simply taste a brussel sprout alone you will probably think it needs salt, but the bacon adds a lot of salty flavor so really when you eat the dish as a whole it may not require any salt at all! Taste the sprout with a small piece of bacon and then make your salt decision!