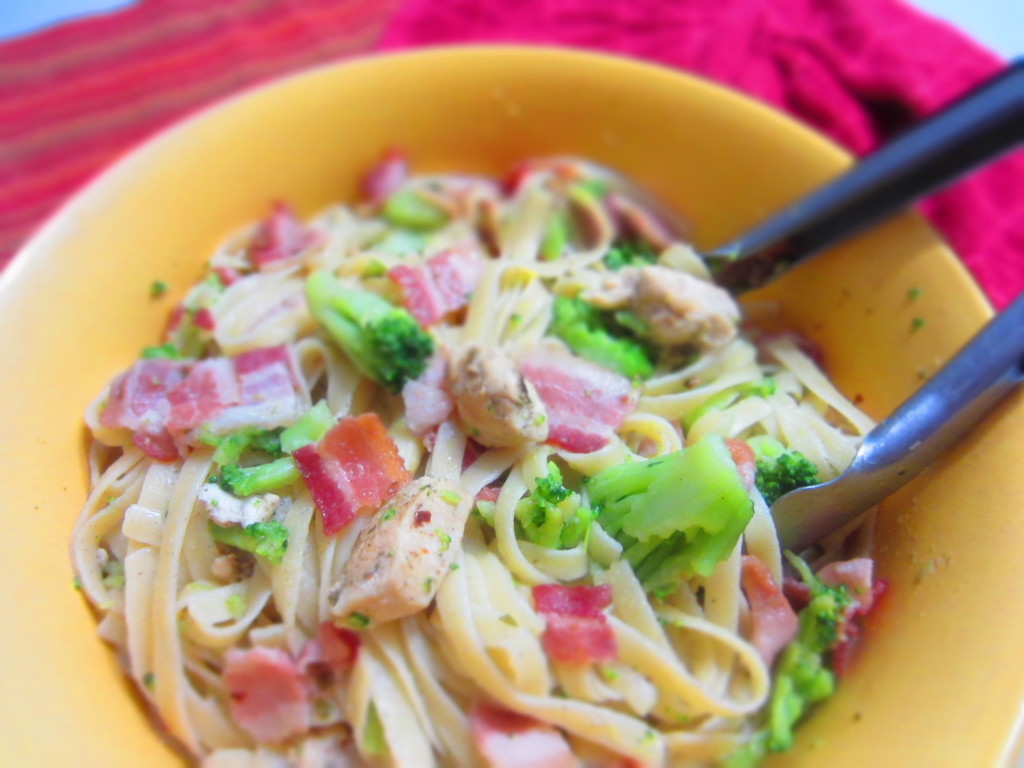 This was an experiment that worked out wonderfully. After eating this I looked at my husband and said, "I'll definitely b e making this one again." "Ummmm, yes!" he replied with a mouthful of this delicious, unique dish.
So this basically has everything good in it. In other words, it has bacon in it. Plus you cook the chicken in the bacon drippings, so what could be better than that? The broccoli adds a great deep flavor, plus my kids will eat it so that is always a plus. I added some unexpected herbs like sage and parsely and topped it off with a little kick from red pepper flakes. Oh, and did I mention it's all warmly wrapped up in fettuccine noodles? Yes, it is!
Everyone enjoyed this meal, including the 3 and 4 year olds that were eating it. I'd say that's a winner simply because my kids were willingly eating it, but we even loved it. It felt like an adult meal and would be great for a "fancy" dinner, but at the same time it really didn't take more than 20 minutes to put together. Is anyone else hearing "winner" in the background?
Here is what it looks like all thrown into the pot after it's all ready to go, just not tossed. Looks amazing right???? Enjoy!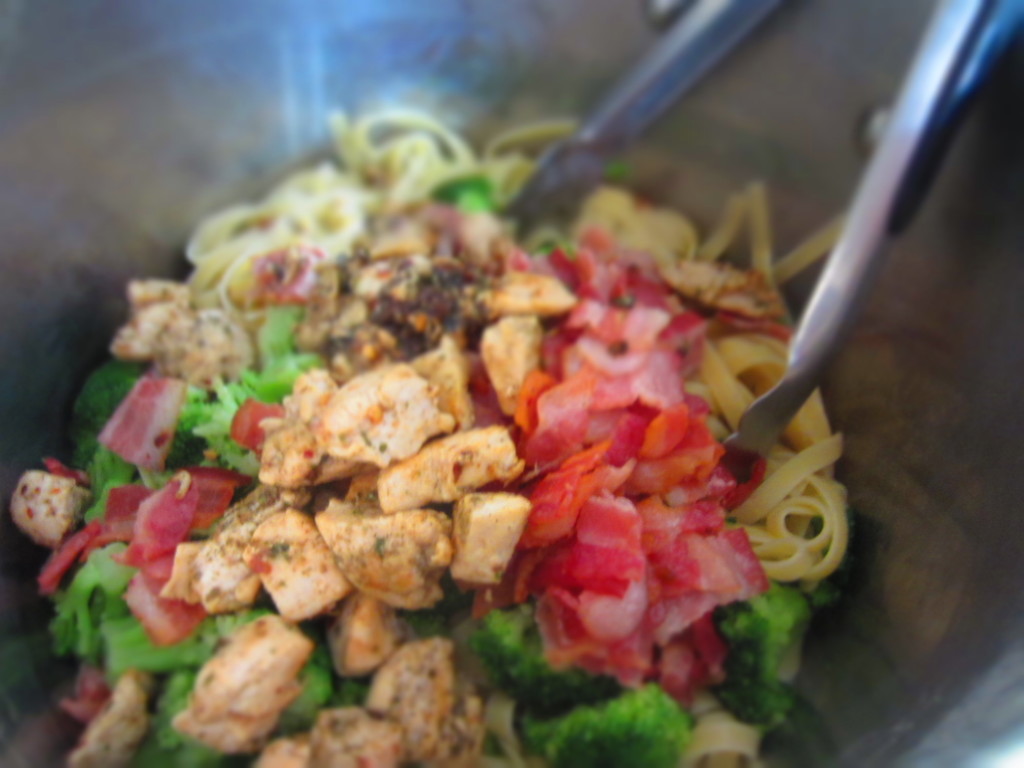 Bacon Chicken Fettuccine
by: Becca F. Fillmore, dinnerforeveryone.com
1/2 lb bacon
1/2 lb chicken breast
1 lb fettuccine noodles
12 ounce bag frozen broccoli
1/2 teaspoon ground sage
1/2 teaspoon parsley
1/2 teaspoon red pepper flakes
salt to taste
Start making noodles according to package directions. Chop raw bacon into 1/2 to 1 inch chunks. Start sauteing those in a frying pan. Start chopping chicken up into 1/2 inch chunks. When bacon is done remove from frying pan, leaving the drippings there. Add chicken. When chicken is about halfway cooked add sage parsley and red pepper flakes. Stir and finish cooking chicken all the way through. When the noodles have about 4 minutes left add the bag of frozen broccoli. Return to boil and finish cooking until noodles are done. Drain water. When chicken is done add the bacon, chicken and all the dripping (including any brown bits you can get from the bottom of the pan) to the noodles and broccoli. Toss until everything is evenly distributed throughout. Serve warm.