Potatoes, green and red peppers, with bacon throughout, what's not to love?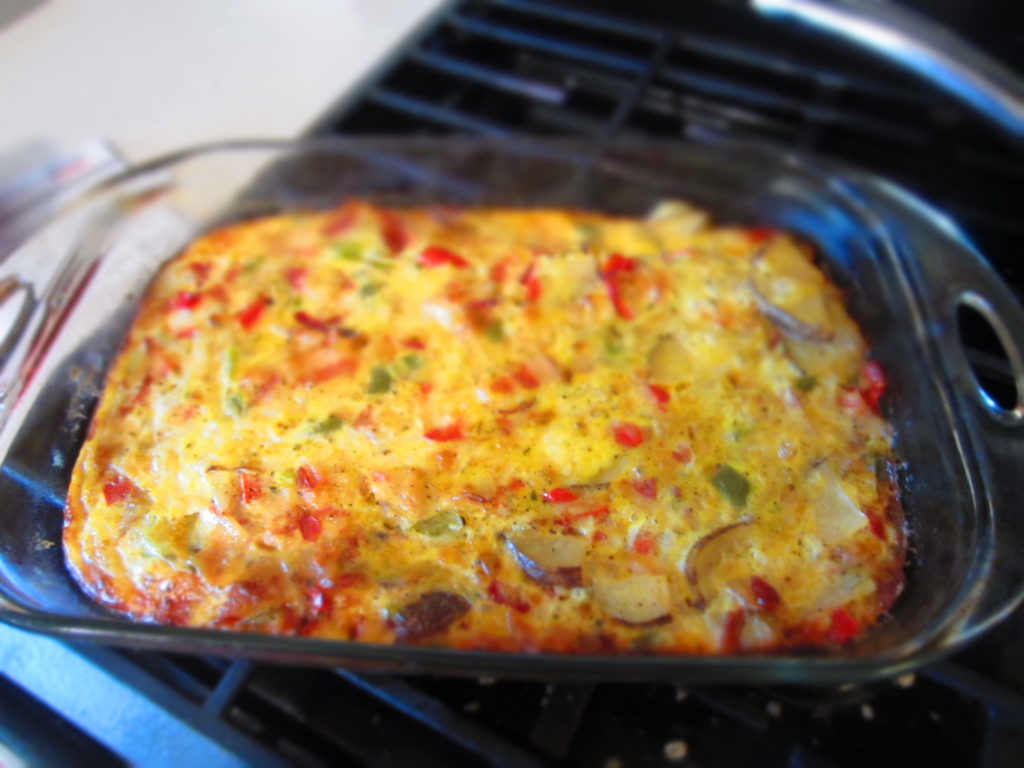 I feel like breakfast casseroles are pretty forgiving. If you have the core ingredients (aka some potatoes, eggs, an onion, maybe some sort of vegetable, etc.) then you can give or take whatever you prefer. Or in most cases for me, according to what I have!
All of my casseroles do have a few key ingredients in common that kind of make them all taste the same, bacon, salt, pepper, garlic powder, oregano, and mustard. Yes mustard. That's not a typo.
I made this casserole for a mom's group and had many requests for the recipes. I looked up my Simple Breakfast Casserole and my BFF Breakfast Casserole and found that this casserole actually had ended up having quite a few alterations from my previously published breakfast casseroles. It really ended up tasting more like a potato/vegetable based breakfast dish than an egg based breakfast dish. So I thought I would write up the recipe, for their sake…and mine, so I would remember, because I REALLY liked it (and so did my husband and children, I might add)!
NOTE: I have prepped this all and put the 9×13 pan, put it in the refrigerator to bake it in the morning. It still bakes up wonderfully even after sitting all night!
Bacon Potato Breakfast Casserole
by: Becca F. Fillmore, dinnerforeveryone.com
1 pound bacon
2 large potatoes
1 red pepper
1 green pepper
1 yellow onion
1/2 cup water
8 eggs
4 ounces pepper jack cheese, shredded
4 ounces monetary jack cheese, shredded
1/2 teaspoon salt
1/2 teaspoon pepper
1 teaspoon oregano
1 tablespoon mustard
Place bacon on a large jellyroll pan (it's ok to squeeze them in there) and place in a cold oven. Turn oven to 400 degrees and put the timer on for 20 minutes. While your bacon is baking chop the potatoes into thin slices (cutting the potatoes in quarters the long way and then thinly slicing those pieces works well, and safely), cut your peppers and onions in small pieces. Your bacon should be just about done when you are done chopping.
Remove the bacon from the oven and place the bacon strips on a plate. Reduce the oven temp to 350 degrees. Pour all of the bacon drippings that are left on the jelly roll pan into a large frying pan. Heat the drippings and add all of your chopped vegetables. Start to saute until they are beginning to be tender (about 5 minutes). Then add the water and cover the frying pan, check and stir often until all of the potatoes are tender and can easily be pierced by a fork (about another 5-10 minutes). Remove from heat.
In a large bowl combine eggs, cheeses, salt, pepper, oregano, and mustard. Chop bacon into 1 inch pieces. Add the chopped bacon into the egg mixture, then add cooled potato mixture and combine well. Spray a 9×13 pan and pour the egg/potato mixture into the pan. Bake at 350 degrees for about 40 minutes, or until the center is firm.