Sliced onions, tossed in hot sauce and brown sugar, wrapped in bacon.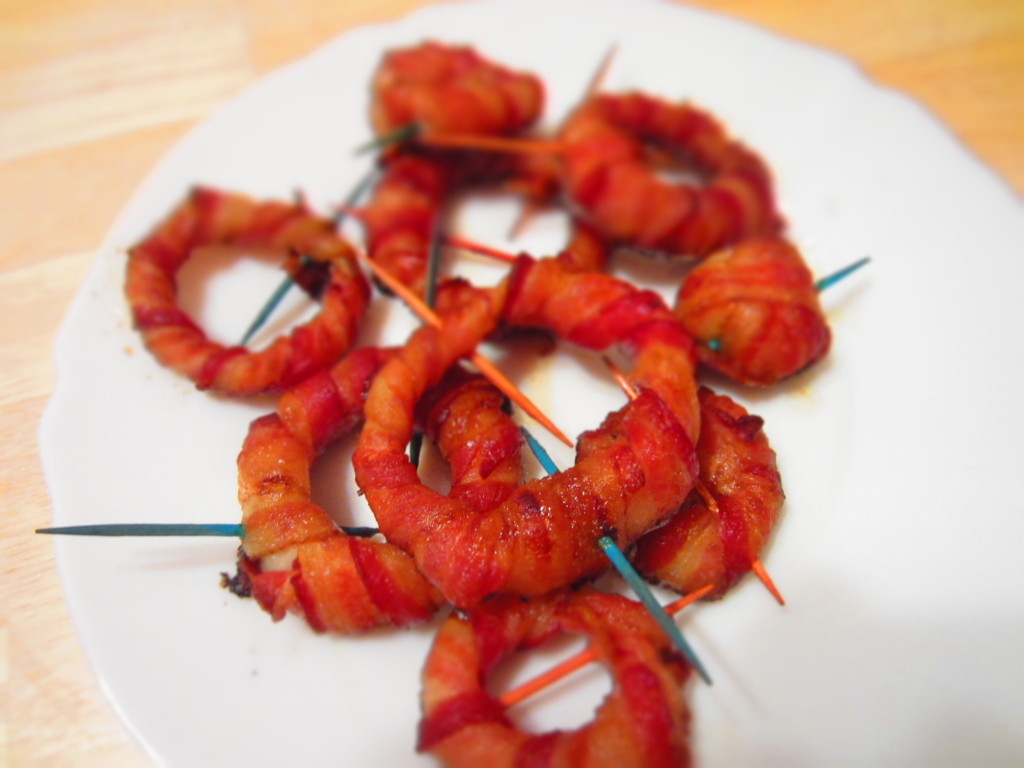 I know just looking at these they aren't necessarily the poster child of health food…but sometimes you just have to have GOOD food! So in all reality, what I'm trying to say is…sometimes you just have to have BACON! All things in moderation. Don't eat these every day and you'll be just fine!
My brother in law asked me to make these. Onions and bacon?..twist my arm (or not at all). I complied, he brought the bacon, I had the onions and I made these flipping delicious appetizers. I thought only my husband, my brother in law, and I would eat these. Suddenly my kids starting going after them and it turns out that we didn't make near enough.
Bacon Wrapped Onion Rings
by: Becca F. Fillmore, dinnerforeveryone.com
1 pound bacon
1 large onion
1-2 tablespoons hot sauce
1 tablespoon brown sugar
toothpicks
Submerge your toothpick in water, this way they won't burn up in the oven. Slice onion into rings and put them in a medium large bowl. Sprinkle on hot sauce and toss to coat, sprinkle on brown sugar and toss to coat. Next simply wrap the onion rings in bacon, securing the ends with toothpicks. Place wrapped onion rings on a large jelly roll pan (You might want to line your jelly roll pan with tin foil to make the whole clean up process less messy!). Place the pan in a cold oven and turn the heat onto 400 degrees and put the timer on for 20-25 minutes. When they bacon is done remove from the oven, remove onto a paper towel lined place and serve!