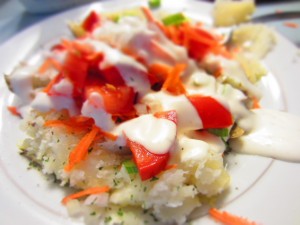 I know what you are thinking…."A baked potato,  really? Everyone knows how to make that." You're right! But does everyone know how to top a baked potato so when you eat it your mouth explodes with flavor? This is a baked potato topped with vegetables, herbs, and other seasonings that will not only fill you up but fulfill your taste buds needs!
Simple, filling, cheap, delicious, and with all of the nutritional content of the herbs and vegetables you may even be able to get away with sliding this one into the nutritious category!Toppings for baked Potato from the bottom up:
1 tablespoon of butter spread over hot potato
We call this seasoning combination BAKED POTATO MAGIC, because it really transforms the flavor of your baked potato like magic would!
combine 1 teaspoon each of the following in a small dish:salt, pepper, garlic salt, onion powder, dried basil, dried oregano, and dried parsley. Sprinkle the herb mixture on top of potato.
Finely chopped celery
shredded carrots
chopped tomatoes
top with a couple tablespoons of your favorite salad dressing!
*Some of my favorite salad dressings to top the potato are ranch (classic!), garlic vinaigrette and balsamic vinaigrette.
p.s. for those of you who don't know exactly how to bake a potato:
poke raw potato plenty of times with a fork all over. Put directly on rack of a 350 degree oven for about 30 minutes or until a fork can easily be poked into the potato.
Microwave version: Poke raw potato as directed above, put in microwave for 5-7 minutes, flipping it over once in the middle of cooking (use on oven mit, it will be really hot).