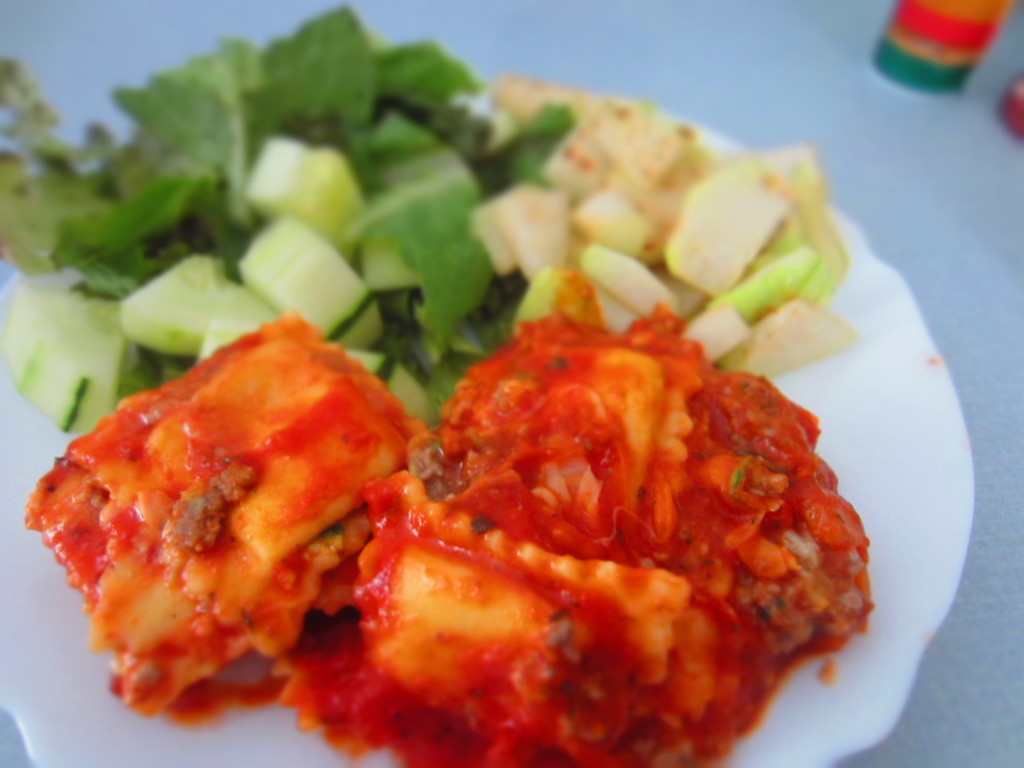 This dish was an experiment I came up with to replace the canned ravioli, which so many people see as the "norm" now. My experiment was a success and we all (including my little ones) really enjoyed the meal!
Not that too many of you want to be baking in all of this heat, but if it cools off a few degrees this dish may look a little more appetizing! We've had it twice this summer and enjoyed it every bit as much as you would if it were colder outside!
This dish is made very similarly to how a spaghetti bake would be made, but the ravioli makes it taste much different. I put a meatless option in here for those of you wanting to cut back or who don't eat meat at all. It tastes great either way!
My kids love this dish, of course! They would eat spaghetti or ravioli every day, unfortunately for them, I make it only about once a month (if they are lucky)! My son kept telling me he wanted "five squares" (5 is his favorite number). It was just one of those cute, memorable moments you can have in the kitchen with your kids. Kids or not, this is one of those dishes that most people will enjoy or at least eat without too much of a fuss!
Baked Ravioli
by: Becca Fillmore, dinnerforeveryone.com
1, 25 oz package of Ravioli, cooked and drained
1 pound ground beef, browned
1 small onion, sautéed
3 cloves garlic, sautéed
1 cup shredded zucchini (or frozen spinach that has been thawed, or diced mushrooms–I would do all three if you are making the meatless option of this meal)
1 cup mozzarella cheese, grated (plus extra for topping)
1 teaspoon oregano
1 teaspoon basil
1/2 teaspoon parsley
2 eggs
2, 24 ounce jars of tomato basil spaghetti sauce
Cook Ravioli according to package directions, drain it and put it in a large bowl. Brown ground beef, when beef is almost done add in onions until they are tender, add garlic for one more minute. Drain grease as needed from the meat mixture. Combine drained noodles, beef/onion/garlic mixture, zucchini (or whichever veggie you are using), oregano, basil, parsley and eggs. Pour 1/2 of one of the jars of spaghetti sauce on the bottom of a 9×13 pan. Pour ravioli mixture on top, pour remaining 1 1/2 jars on top of the ravioli mixture. Top with desired amount of extra mozzarella cheese. Bake at 400 degrees for 30 minutes or until sauce is bubbling and the cheese is melted.