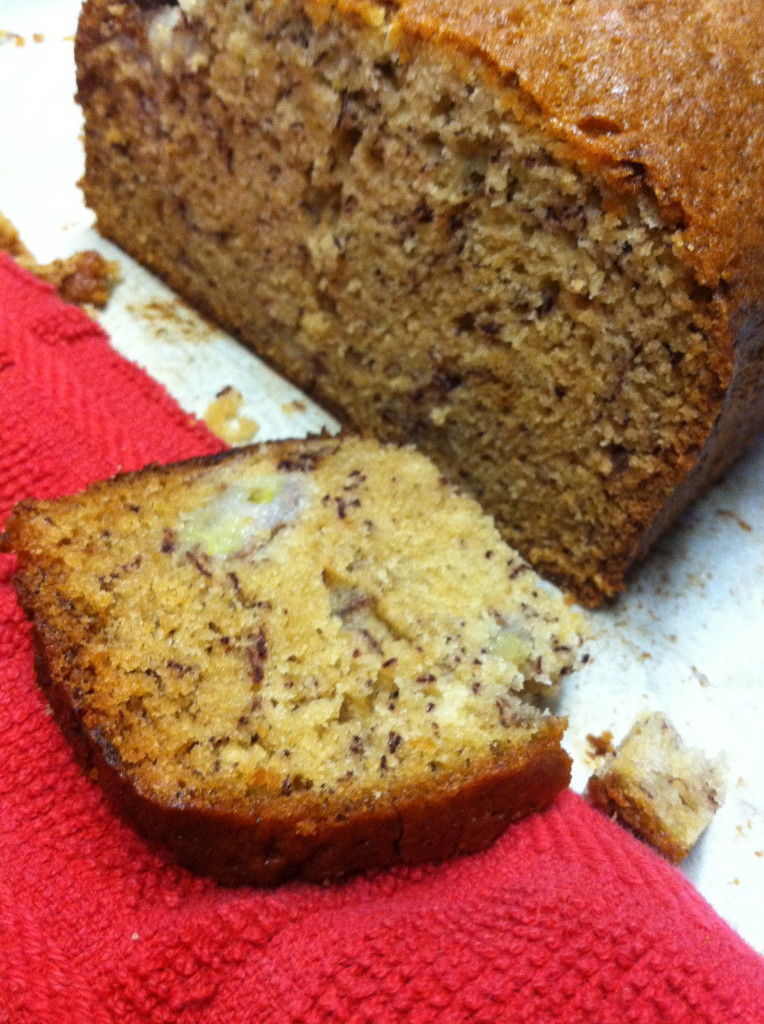 This week I am up in Minnesota at a cabin on a lake. Yes, it's a little cold but we've still managed to go out on the lake and my nieces have even braved the cold water to go tubing. As my sister and I were packing food for the trip we must have had the same type of thoughts going on. We both packed 3 bunches of bananas. We all like bananas as much as the next person, but six bunches needing to be eating within 3 days just wasn't happening. Therefore, we've been experimenting with a lot of banana bread/muffin type recipes. This particular recipe we made turned out fantastic!
This picture isn't quite up to par since I had to take it on my iPhone because, of course, when I took out my camera the battery was dead…and here I am in Minnesota with no charger. So with this recipe you will truly have to make it to see (and taste) it's goodness!
We did a great sourdough version of banana bread, a banana muffin, and this one. This banana bread recipe I adapted from just a basic banana bread recipe. The recipe itself still looks pretty basic. The biggest difference I made was the flour to banana ratio. I upped that banana and lowered the flour a bit.
This recipe ended up tasting the most traditional, moist, and "banana-ey." I will probably end up making all of our concoctions again and most likely sharing them with you at some point, but today it's going to be this nice, easy, and traditional banana bread recipe.
Banana Bread
by: Becca Fillmore, dinnerforeveryone.com
1 cup sugar
1 egg
3/4 cup butter, soften
1 cup mashed, ripe, bananas
1 teaspoon vanilla
1 teaspoon baking soda
1 1/2 cups flour
Cream together sugar, butter, and egg. Add in bananas and vanilla and combine. Sprinkle baking soda and flour over top, mix with a spatula or wooden spoon until just combined. Put in a greased or parchment lined 4×8 loaf pan. Bake at 350 degrees for an hour or until a toothpick comes out clean when inserted into the middle of the loaf.