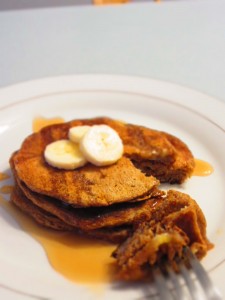 "Maybe we can sleep in, I'll make you banana pancakes, pretend like it's the weekend now"–Jack Johnson, Banana Pancakes
I make sourdough pancakes almost every morning. My family loves them and it feels so good to eat them! To throw some variety in there I like to get a bag of ripe bananas that are on sale for .39 cents a pound or less and make us some banana pancakes.
The thing I love about how I make banana pancakes is that you get bursts of flavor throughout the pancakes without messing up the texture of the original pancake.
I don't have a specific pancake recipe to give you because, like I said, I make sourdough pancakes and not everyone has a sourdough starter to work with. So I will simply give you ratios and you can apply them to the pancakes that suit your family best!
Banana Pancakes
Mash 2 ripe bananas (equals about 1 cup)
Into a bowl of prepared pancake batter that would make 12-16 pancakes, add 1 cup mashed bananas
Cook on griddle as you normally would