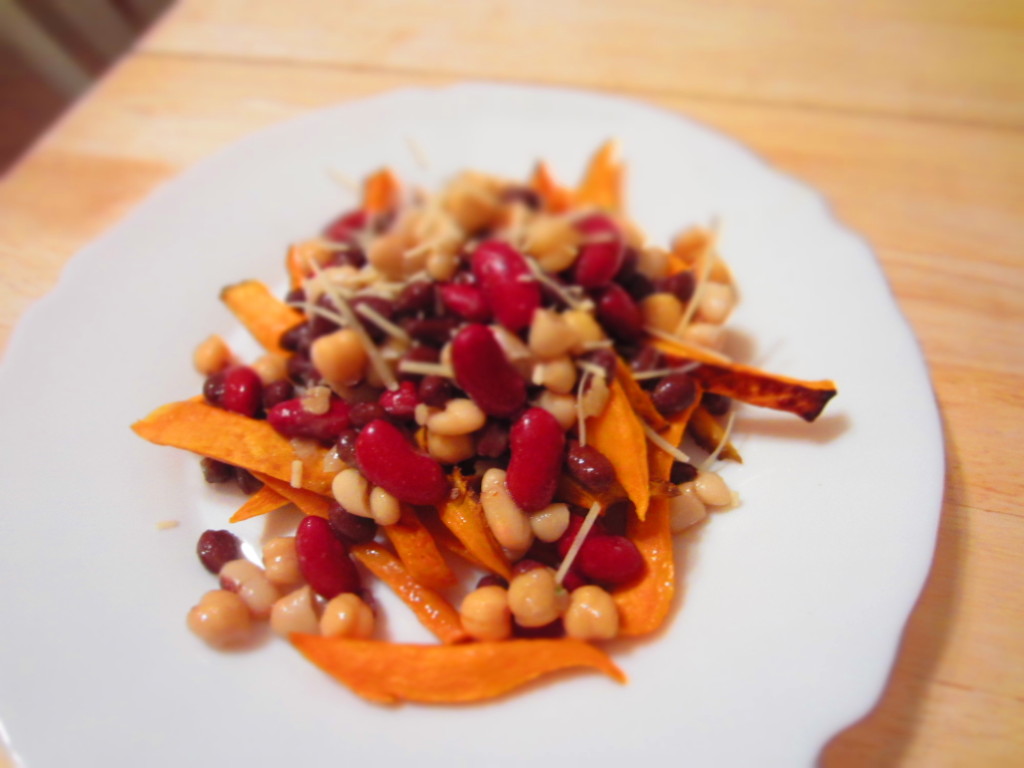 Bean salad, bean salad. Do I make it? Will it get eaten? Is it worth it? Will Matt like it? My kids probably won't touch it. Will I end up eating it alone all week? Yes, these are the thoughts that go through my head as I think about making a bean salad. Sometimes I just don't know. Every once in a while, though, I will give it a try. And every time I am glad I decided to make it!
Matt even liked it and I didn't have to eat it all by myself. I didn't expect the kids to go for it, but to be honest, 90% of the time I don't cook for them. I cook for me and give them the option to eat (it's my way of introducing them to all kinds of food options and learning to try new things…also I really like to eat good food).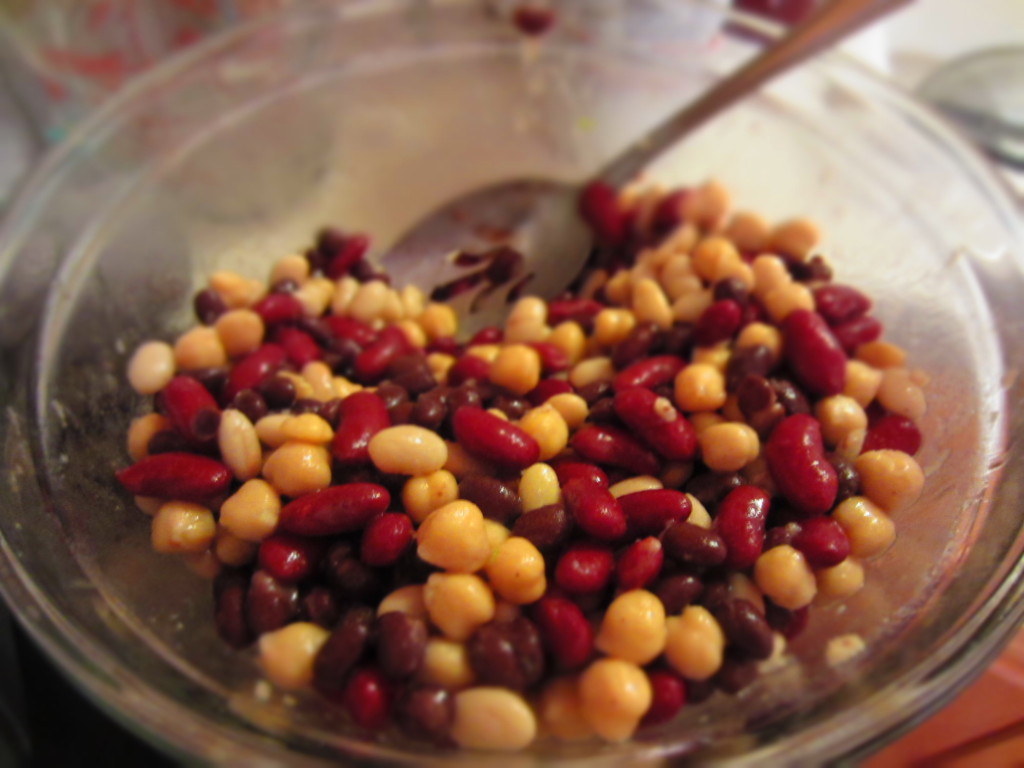 So back to the bean salad. I wanted to make a bean salad for the main dish. That's why I decided to throw it on top of oven baked sweet potato fries, you know, to give it just that much more substance and a nice warm bed! I absolutely LOVED the combination. Seriously, it worked so well. I made a savory type of dressing to go on the beans, which offset the sweetness from the sweet potatoes just perfectly.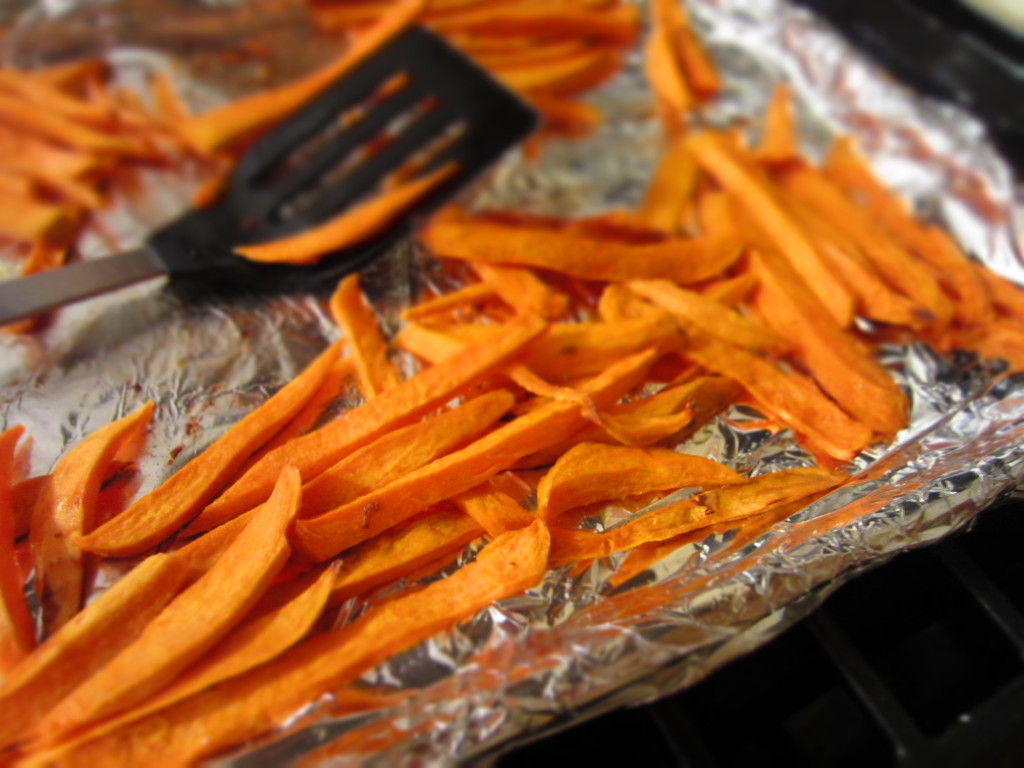 Sometimes, things just work, and this did! I topped it off with a sprinkle of Parmesan cheese and it was a perfectly satisfying main dish. I had the leftovers for lunch the next couple of days and it just got better.
If you are looking for something really quick to make just don't make the sweet potatoes and toss together the bean salad. If you are making a side dish to bring to a party or you want something simply for yourself to have on hand, the bean salad itself will be a great recipe to try out!
Bean Salad on Sweet Potato Fries
by: Becca F. Fillmore, dinnerforeveryone.com
Bean Salad:
1, 15.5 ounce can Garbanzo Beans
1, 15.5 ounce can Red Kidney Beans
1, 15.5 ounce can Great Northern Bean
1, 15.5 ounce can Black Beans
Rinse all beans and combine.
Dressing:
2 tablespoons olive oil
3 tablespoons red wine vinegar
2 cloves garlic
1 teaspoon honey
1 teaspoon spicy brown mustard
1/4 cup Parmesan Cheese (for topping individual servings or to combine into the salad)
Combine dressing ingredients. Pour over top beans and toss.
Baked Sweet Potatoes:
3 sweet potatoes
2-3 tablespoons olive oil
salt to taste
Chop sweet potatoes into fries. Put them in a bowl, drizzle olive oil over top and toss. Line a baking sheet with tin foil (for easy clean up) and spread sweet potatoes in a single layer. Sprinkle potatoes with salt. Bake at 400 degrees for 30 minutes or until the potatoes can be easily pierced with a fork and are browning some.
Serve bean salad on top of a bed of sweet potatoes. Sprinkle with Parmesan Cheese.