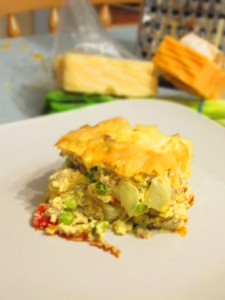 This casserole is derived from a recipe from the book English Trifle, a culinary murder mystery by Josi S. Kilpack. These books are a really fun read, and they have delicious food descriptions and recipes written throughout the books. There are a bunch of the books in her series, I am pretty sure I've mentioned her before! Her books were actually a huge inspiration for me to start this website in the first place! Her books inspired me to not only try new recipes but to share them with people (I used to be a real recipe hog). I guess you could say they were life changing books for me, but they aren't really that kind of book for everyone. They are, however, entertaining for everyone if you ever want to check them out. If you want to see all her recipes or buy her books you can check out her website josiskilpack.com
Back to the breakfast casserole…
I like this casserole because I've made it into something packed full of vegetables (I'm sure you are all "shocked" by that one) but it still tastes super "breakfast-ey."
You can easily make this the night before and bake it in the morning, or you can make it for dinner (like me), it's a full meal either way! This is also great if you are having company, hosting a brunch, or have very hungry kids you have to feed in the mornings!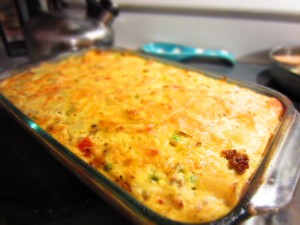 BFF Breakfast Casserole
1 pound sausage (can use ham or bacon if you don't have sausage on hand)
10 eggs
1 tablespoon Dijon mustard
1 cup chopped red pepper (about 1 large pepper)
1 cup peas
1 cup mushrooms, chopped (optional)
2 large baking potatoes, chopped
1 large onion, chopped
1/4 cup green onions, chopped
1/2 teaspoon salt
1/2 teaspoon pepper
1/2 teaspoon garlic salt
1/2 teaspoon dried oregano
1/2 teaspoon dried parsley
1 1/2 cups cottage cheese
1 1/2 cups Swiss cheese, shredded
1 1/2 cups sharp cheddar cheese, shredded
Brown sausage in a large skillet, take out sausage and in the drippings add chopped onion, potatoes, and mushrooms (if applicable). Sauté until onions start to turn opaque. Add 1/2-3/4 cup water in the bottom of skillet and let simmer to help soften potatoes. While potatoes and onions are simmering mix eggs, chopped red pepper, salt, pepper, garlic salt, oregano, and parsley. Add 1 1/2 cup cottage cheese and only 1 cup of the Swiss cheese and 1 cup of cheddar cheese (reserving the extra half cup amounts for later). Add in onion/potato mixture, green onions and peas. Pour in a greased 9×13 pan, sprinkle remaining half cups of Swiss and cheddar cheese on top, bake at 350 degrees for 40 minutes or until the center is set and the outside edges are slightly brown.
***You can also put these in muffin tins to make individual serving sizes. Decrease baking time to 30 minutes.