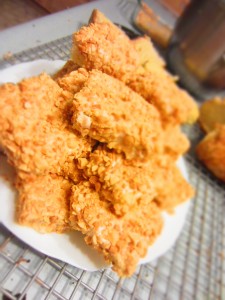 I had never heard of these until this this year. A friend of mine posted her recipe of her facebook page and asked someone to make it since she wouldn't be making them this year. I, naturally, took on the challenge! I saw a comment about these treats…something to the effect that they were a pain to make but worth it.
In light of St. Patrick's Day I made these and soda bread. We started at 8pm and got done at 10:30pm. Not too shabby for bread and these tasty treats. I must admit, the bread really didn't take much time….and these are a pain to make. They are however, like the previously mentions commenter said, WORTH IT! That being said, they are NOT HARD to make. They are actually one of the most simple cake like desserts I've made. It just takes a long time to chop peanuts, frost each piece and roll them in the nuts.
I mean really, they are a delicious spongy vanilla cake frosted on all sides and rolled in finely chopped peanuts. What is not to like? I suppose if you have a peanut allergy this isn't the treat for you, but otherwise, these are a definite crowd pleaser!
Blarney Stone
Family Recipe of: Shari S.
4 eggs
2 cups sugar
1 cup boiling water
2 cups cake flour
1 teaspoon baking powder
3 teaspoons vanilla
Frosting
7 1/2 cups powdered sugar
2/3 cup milk
2 teaspoons vanilla
1/4-1/2 teaspoon salt
3 cups whole peanuts (to "roll" the frosted bars in)
Beat whole eggs until foamy in a large mixing bowl. Gradually add the sugar and continue to beat. Mix in flour and baking powder and heated water in this manner, add 1/3 cup flour, add 1/2 cup water, add 1/3 cup flour, add 1/2 cup water, add 1/3 cup flour, mixing after you add each. Add the remaining flour.  Add vanilla. Line pan with parchment paper, Bake in 11×15 pan at 350′ for 30 minutes or until a toothpick put in the center comes out clean.
For frosting beat all ingredients until combined and smooth.
Chop your peanuts.
Cut cake into squares, frost on all sides and roll in finely chopped peanuts.