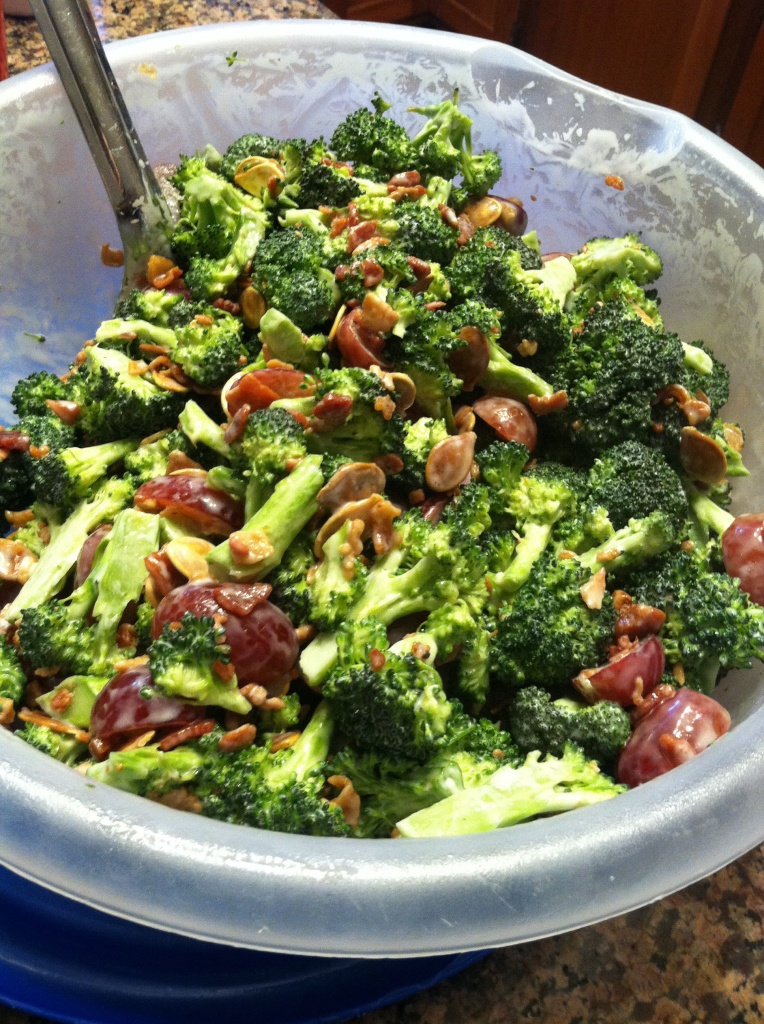 I know Broccoli Salad is nothing new, but this is my version derived from the version that I had in the cookbook my sister made for me. All broccoli salads seem to have the same basic ingredients, but amounts vary thus making them vary quite a bit. I made this and it was such a hit I figured I should share it! I like to do that you know.You have no need to wonder if this particular salad is going to turn out or not. It will! It's tried and true…and truly delicious!
I made this for a family get together at my sisters house. My sister's were giving me the thumbs up about it, I had to ward off my husband from eating it all himself, my brother told his wife to make sure to get the recipe from me, and my sister's mother in law was sure to ask if this recipe was on my website. I promised her I would post it!
I think the key to a really good broccoli salad is letting it marinade for at least an hour before serving. If you can make it in the morning and serve it in the afternoon or evening, even better! Another fun twist I put on this recipe is that I put roasted pumpkin seed in the salad. I know those aren't always in season or you may not always have them around, so the next best thing I like to put in are the already shelled for you sunflower seeds.
Broccoli salad
by: Becca F. Fillmore, dinnerforeveryone.com
Dressing:
1 cup mayonnaise
1/4 cup sugar
2 tablespoons apple cider vinegar
1/4 teaspoon ground pepper
Salad:
5 small heads broccoli
2 cups grapes, cut in half (can use Craisins if you don't have grapes on hand)
1/3 cup roasted pumpkins seeds or sunflower seeds
1, 3 oz package bacon bits
Combine dressing ingredients in a large bowl. Cut broccoli florets into bite sized pieces and slice grapes in half. Add broccoli, grapes, seeds, and bacon into dressing. Toss until evenly coated. Let sit at least and hour in refrigerator before serving for best flavor.