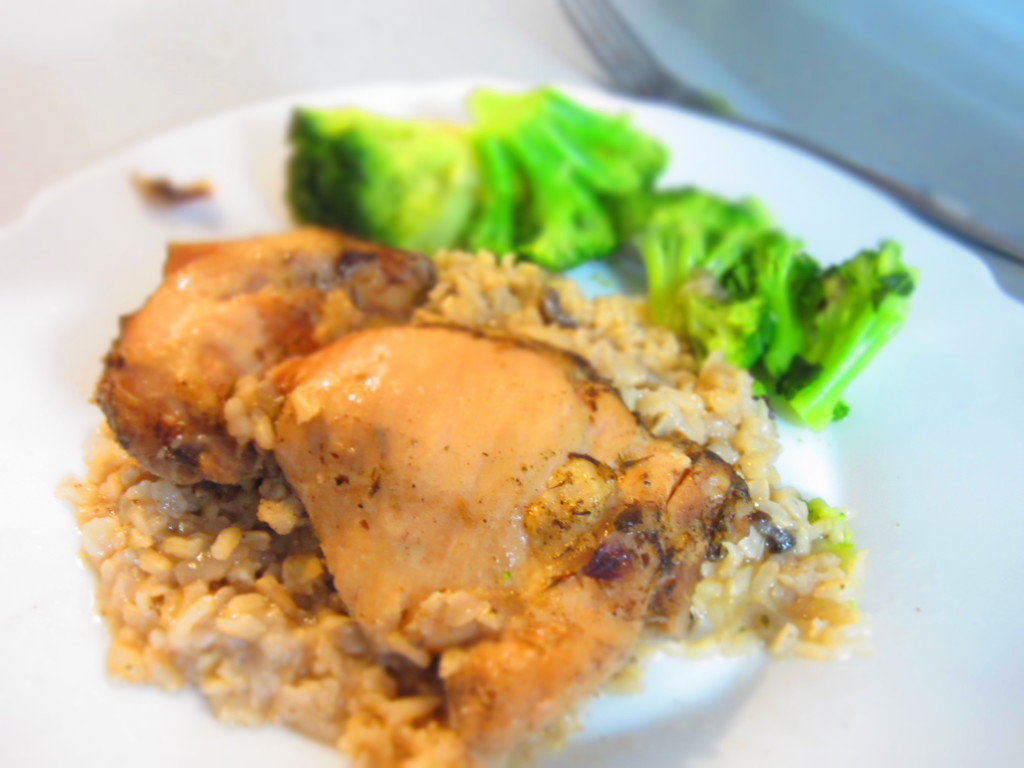 This recipe was inspired by a crock pot recipe. If you looked at the two recipes side by side the only thing in common would be the chicken and mushrooms. I pretty much changed everything from the kind of rice I use to the spices they put in it. I'm so glad I was inspired by that recipe because this turned out so good! It's creamy (yet has no cream in it) and has delicious subtle flavors thanks to the sage, thyme, and brown rice. This is definitely a comfort food, winter is coming dish. The perk is that it doesn't have the heavy dairy that many comfort food have. My body and nursing baby aren't responding well to dairy these days so I've been cutting back. Therefore, many of the recipes I post will be cut back on dairy as well.
Both my husband and I were shocked at how well this turned out. It's simple to make. It's not a pretty meal.  It smells great though! It fills your house with wonderfully warm, delicious smells! One of the things that surprised me about this recipe was the use of the red onion. I used a red one because I accidentally only bought red ones. I meant to pick up yellow, but I was letting my son help me shop and therein lies the perks of letting your 4 year old help you in the grocery store…some things just slip through the cracks. Anyway, back to the red onion…I was really not sure about how the flavor would go with everything else in the dish, but it really had a great effect and I wouldn't change it! Using baby bella mushrooms are always a win in my book, but they really paired so well with the sage and thyme. Brown rice has a natural nutty flavor so I knew that using brown rice would add another great layer of flavor to this dish.
Brown Rice and Chicken Bake
by: Becca F. Fillmore, dinnerforeveryone.com
1 1/4 cup brown rice
4 ounces baby bella mushrooms
3/4 cup red onion
1/2 teaspoon ground sage
1/2 teaspoon dried thyme leaves
1 teaspoon salt
1/2 teaspoon pepper
2 1/2 cups water
6 bone in chicken thighs (about two pounds)
Spread the ingredients evenly in a 9×13 pan in the order listed. Bake covered at 400 degrees for 1 hour, uncover it and bake it another 20 minutes (or until chicken and rice is done). TIP: when rice is done, chicken will be done.