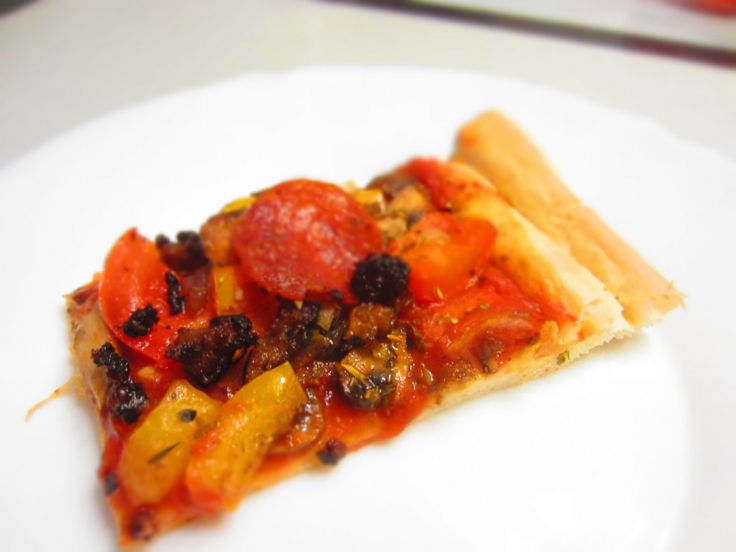 My brother is…well, not lactose intolerant, but something in dairy products intolerant. He once made a request that I try to make some sort of a cheeseless pizza because all my pizza recipes look so good to him. Well, I finally did it and it even got a large stamp of approval from my husband! Of course, now my brother is pretty much gluten-free…but I'm leaving the g-free crust up to him to figure out!
Cheese on pizza not only makes everything stick, but for me it adds a depth of flavor to the other toppings. So I tried to make a combination that kept a depth of flavor and richness even though I was eliminating the cheese. So I thought of a few simple things
KEEP IT SAUCY: You don't have cheese to hold everything together, so the sauce is going to end up doing that for you in a sense. Also, it just tastes so good to have lots of sauce on your pizza…trust me.
RICH VEGETABLES: I chose vegetables that I thought had a nice rich flavor. I didn't just use mushrooms, but baby bella mushrooms. I used two kinds of peppers and red onions instead of yellow onions. Garlic always adds depth to anything, so I threw some of that in there as well!
RELEASE THOSE FLAVORS: Those vegetables are all great, but to make those flavors blend and really release their different layers I decided to throw it all in a frying pan to saute it up until it became soft.
VARIETY OF MEAT: I knew putting on a meat would help keep that pizza feel, but again, I was looking for depth and richness in the flavors. So I went with Italian sausage. Italian sausage already has so many great herbs and spices mixed in with the meat so it's going to add great quality to the dish. I also decided to add pepperoni. It's a classic pizza topping that always tastes great.
HERBS: To make sure this pizza really had that extra kick of flavor I added herbs right on top before baking! This really makes a big difference in flavor that you won't want to miss out on.
p.s. You can easily take out the meat and have a super flavorful meatless/cheeseless pizza.
There you have it! My cheeseless pizza, dedicated to my brother. Of course a good crust is always nice! So make sure to check out my My Mom's Pizza Dough recipe!
Cheeseless Pizza
by Becca F. Fillmore
For one pizza
Toppings:
1/2 pound Italian Sausage
1/2 yellow pepper
1/2 red pepper
1/2 red onion
4 ounces chopped baby bella mushrooms
2 cloves garlic, minced
1/2 teaspoon oregano
1/2 teaspoon basil
pepperoni (desired amount)
pizza sauce (desired amount)
Chop vegetables and start browning the Italian Sausage. When it's almost done add all the vegetables at once (peppers, onion, mushrooms, and garlic). Saute until they are softened and the sausage is cooked through.
On pizza crust layer sauce (and then some more), the sausage/veggie mixture, sprinkle the herbs right on top of the pizza and top it all with pepperonis. Bake at 425 for 17 minutes or according to your crust.