Chickpeas, feta, parsley and a few more key ingredients will keep you coming back for more when you make this simple salad!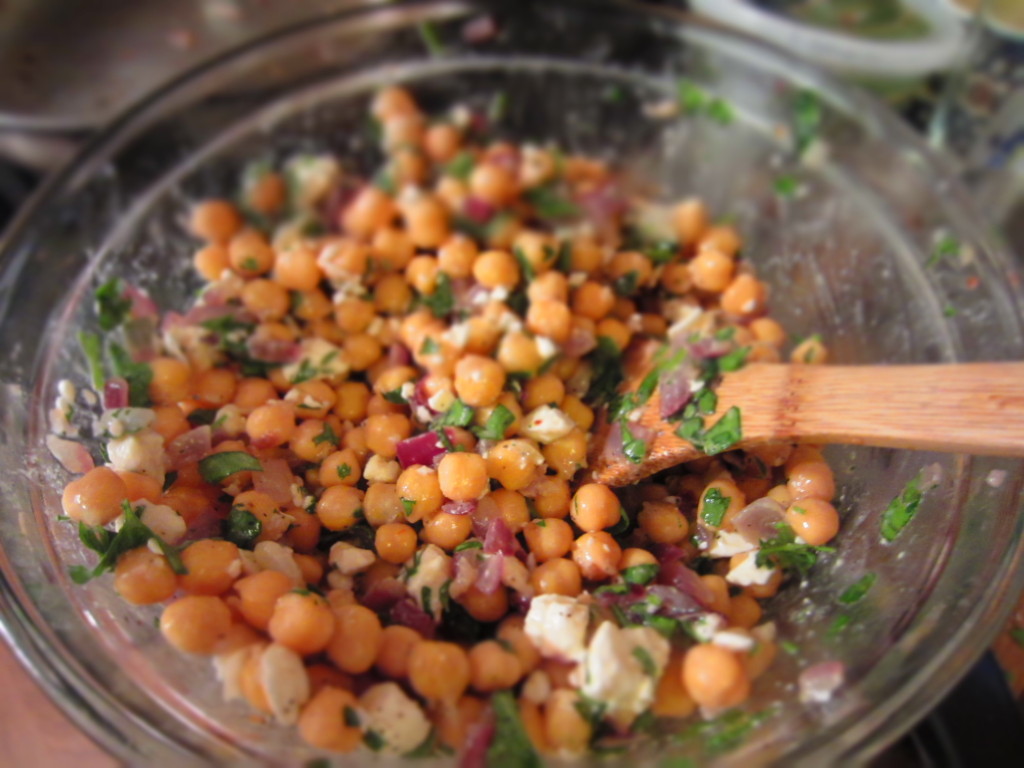 This simple dish blew me away! It has so many flavors that all blend well. I was very happy with how this turned out.
I've been experimenting lately with bean salads. I love chickpeas (aka garbanzo beans), so I knew making up a salad with chickpeas as the base was something I HAD to try.
Since chickpeas are used to make hummus I went with flavors that reminded me of hummus and Mediterranean foods.
I tried to go for a filling, comfort food, yet fresh type of taste. Sauteing up the onion and garlic give the dish a deeper flavor, supported by the cheese. The parsley and fresh lemon juice give it the fresh taste! The chickpeas do their job of supporting flavors and filling you up when you eat it!
This is a great side dish to make for pretty much any occasion. I like to make it the night before I am going to serve it because if you let the salad sit those flavors are REALLY going to blend and make an impression on your taste  buds!
Chickpea Feta Salad
by: Becca F. Fillmore, dinnerforeveryone.com
2 tablespoon olive oil
1 small red onion, diced
3 garlic cloves, minced or pressed
2, 15oz cans chickpeas
3/4 cup finely chopped flat leaf parsley
5oz feta cheese
1/4 cup shredded Parmesan cheese
1/2 tsp salt
1/2 tsp pepper
Juice of one small lemon
Heat oil in a frying pan and saute diced red onion and minced garlic until fragrant and onions are soft. Remove from heat. In a medium sized bowl combine chickpeas, parsley, feta, parmesan, salt and pepper. Then add in the cooled onion/garlic mixture and combine. Finish by adding in the lemon juice and combing one last time. (this dish tastes even better the second day)