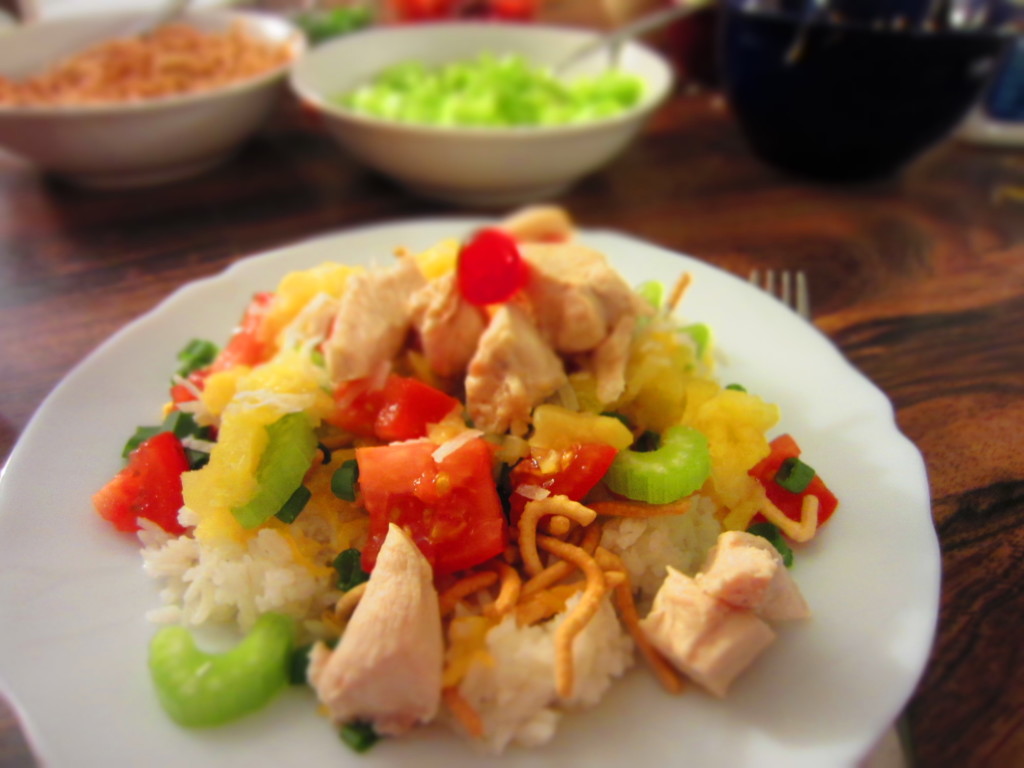 Chinese Sundaes: This little dish is also known by many as "Hawaiian Haystacks." I had forgotten all about this dish until I was looking through an old cookbook that I contributed a few recipes to. I had contributed this recipe and it brought back a lot of great memories! This recipe is easy to expand to be able to feed a ton of people; so my mom would often times make this when we were having guests over for dinner when I was growing up. It's also a great meal because you can pick and choose your toppings, so everyone should be satisfied with the result because they will have things they prefer on their plate.
I am in no way taking credit for this recipe. It is a pretty standard idea and I'm just calling it a family recipe because I grew up with it, and no one really made up the recipe.  It's just one of those that everyone knows and loves!
It really is a simple concept, with no real measurements. This can be the beauty of the recipe though! You can make it small for yourself, medium for your family, or huge for when you are having family, friends, or a party! There can be a lot of chopping involved, so keep that in mind when you are prepping the meal!
Chinese Sundaes
family recipe, dinnerforeveryone.com
rice, cooked
chow mein noodles
cheddar cheese, shredded
green onions, diced
celery, chopped
crushed pineapple
tomatoes, chopped
chicken broth
coconut
cooked chicken, bite sized (I usually cook these in the broth and serve the chicken and broth together. Thicken the broth with a cornstarch and water mixture if desired)
cherries (to top off the Sundae)
Layer ingredients as desired, pour chicken broth and chicken over top, and finish it with a cherry on top!