Lot's of new things coming for dinnerforeveryone.com and my family in 2014!
So what should you be looking forward to in the new year???
A NEW LOOK- In the next couple of months we will be completely revamping the look of dinnerforeveryone.com! It will give you a a broader view of my website right from the homepage! We have been looking forward to this change for quite sometime now and we are SO EXCITED to share it with you
2 NEW e-cookbooks!!!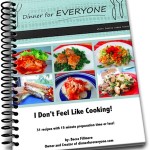 I'll be putting together 2 new e-cookbooks this year (titles to be announced at a later date). We are planning on making these "device ready" which will make it easier for you all to use!
A NEW BABY!!!!
That's right! A new one will be introduced into our family at the end of May/Beginning of June (my boy came 5 days late, my girl came 2 weeks early…I feel like I have NO IDEA when to expect this one)! We are definitely looking forward to this change, and don't worry I have already planned ahead for you guys too! Since I'll be out of cooking commission for a little while after I have the baby I have begun to prep how I will still be contributing to the site, which leads me to my next point.
FREEZER MEALS-
I will be posting a lot of freezer meal options for you all while I'm not actually doing the cooking myself (you know, after  I have the baby). Expect a lot of great recipe ideas including freezing and re-heating instructions (I will be a master at the on the re-heating end of things). They will be going into the "I'm planning ahead" category, so keep your eye out for those come June!
Youtube Series-
This fall my husband and I plan to have an 8 episode youtube series ready for viewing. These 5-8 minute episodes will feature my recipes being tested by people in their homes! We are so excited to test out different recipes in a variety of categories.
Of course we could never be doing all of these thing for the continued growth of the site without your constant support. THANK YOU SO MUCH!!!