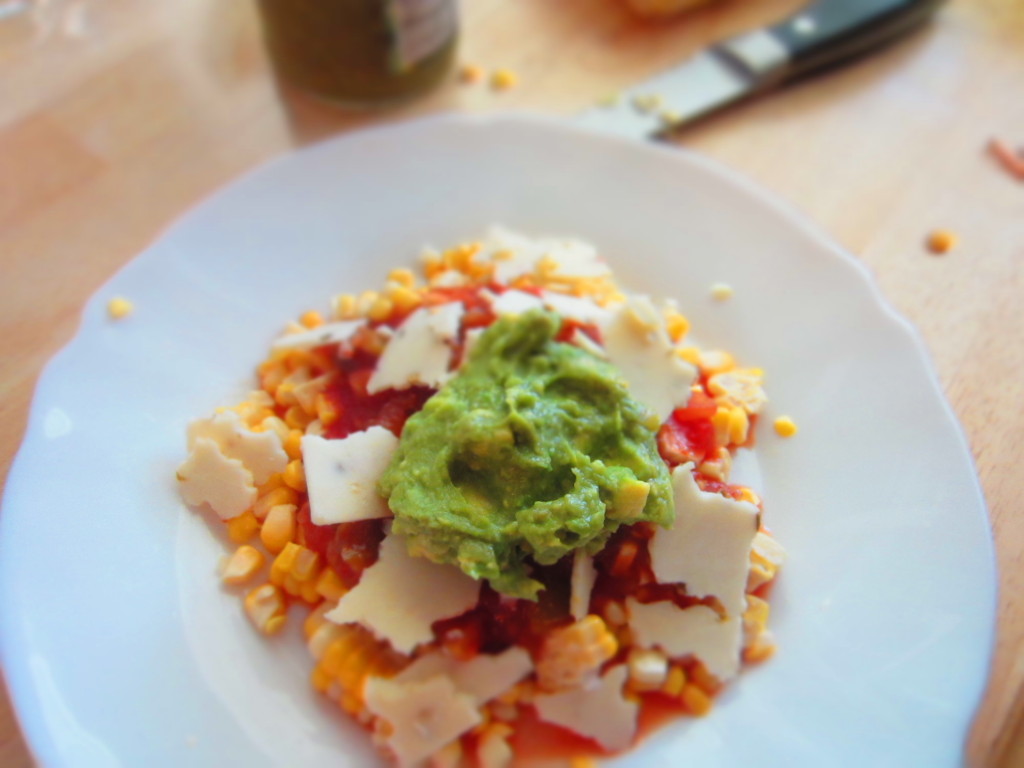 This is more of a "get your creative juices flowing" kind of recipe. You can swap out any of the add on ingredients for something else you prefer. The main idea is to start your salad with a bed of corn.
So a salad can be pretty much whatever you want. Toss it together, serve it cold, and call it a salad. Better yet, make it flavorful and unique. Not a hard concept, it's just fun to put a twist on something old and make it new.
This is a great, inexpensive light lunch or side dish to a variety of meals. It's vegetarian and gluten free without even trying!
I cut the corn for this salad off a left over, already cooked, cob of corn. You could use frozen corn that has been thawed, or even canned corn. The point is to start with a layer of corn. I simply put salsa over top the salad, pepper jack cheese, and topped it with a dollop of guacamole. Think that sounds delicious? Try tasting it! Like, I said, you can
do whatever you want with it. Follow my combo exactly or try whipping up your own corn salad. Share it with me! I'd love to try it! I'm an Iowa girl and I love me some corn!
Corn and Salsa Salad
by: Becca F. Fillmore, dinnerforeveryone.com
serving size, 1
3/4 cup corn, cooked
1/4 cup salsa
1 large slice pepper jack cheese
2-3 tablespoons guacamole
salt and pepper to taste (optional)