I was making chicken for dinner the other day and realized that that was all I had in the plan….chicken….that's it! Nothing else! So, of course I had to make something that would help give it a bit of excitement. So I came up with this wonderful Creamy Mustard Sauce!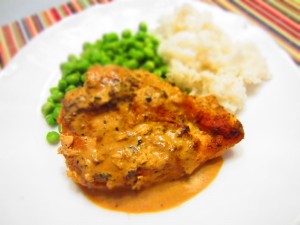 It takes no time at all and gives the chicken another layer of flavor that I wasn't expecting!
This is one of those recipes that seems pretty easy the first time you make it, and then when you've made it a couple more times you start cooking and suddenly you're done without even realizing you've started!
This is a great meal for nights you that you don't feel like cooking, but at the same time the flavor is such with this recipe that you would also be proud to make it for a group of guests! I love recipes like this!
Make sure to plate this meal with lots of dark green vegetables. Not only does it make the chicken look better, but dark greens really go nicely with the flavor of the mustard sauce. When I made it the first time (when I took the picture) I only had peas and rice to go with it, which tasted, don't get me wrong. I would suggest a mixed green salad or even a kale salad along with steamed asparagus or another hearty vegetable like that. Maybe I just love the chicken and vegetable combo, but I mean really, how can you resist all those delicious flavors now (with this recipe) with hints of a creamy mustard sauce????
Not that I've gotten my mouth sufficiently watering, here's the recipe.
Creamy Mustard Sauce
by Becca Fillmore, DinnerForEveryone.com
4 chicken breasts, slightly tenderized* 
salt and pepper
1/2 cup chicken broth
1 cup 2% milk, divided
2 tablespoons Dijon mustard
1 teaspoon corn starch
1 teaspoon dried basil
Salt and pepper your chicken. Saute chicken in your choice of butter, olive oil, lard, etc. When chicken is cooked through (try not to over cook it! about 3-5 minutes on each side should do) remove from frying pan. Add chicken broth to the same frying pan you cooked the chicken in, stirring over medium heat until all the brown bits have been lifted from the bottom of the pan. Add 1/2 cup of milk and mustard stir and let simmer for about 3 minutes. Mix cornstarch in the remaining milk until dissolved. Add milk/cornstarch mixture to broth mixture, add basil. Stir until thickened. Add more salt by taste if necessary. Serve over top chicken.
*you can flatten them some by putting them between two pieces of plastic wrap and hit them with a rolling pin….or have your butcher tenderize them for you…or use a meat hammer thing-obviously I don't have one because I don't know what they're called! This technically is optional, but it really does make a difference for the good if you tenderize them a bit!