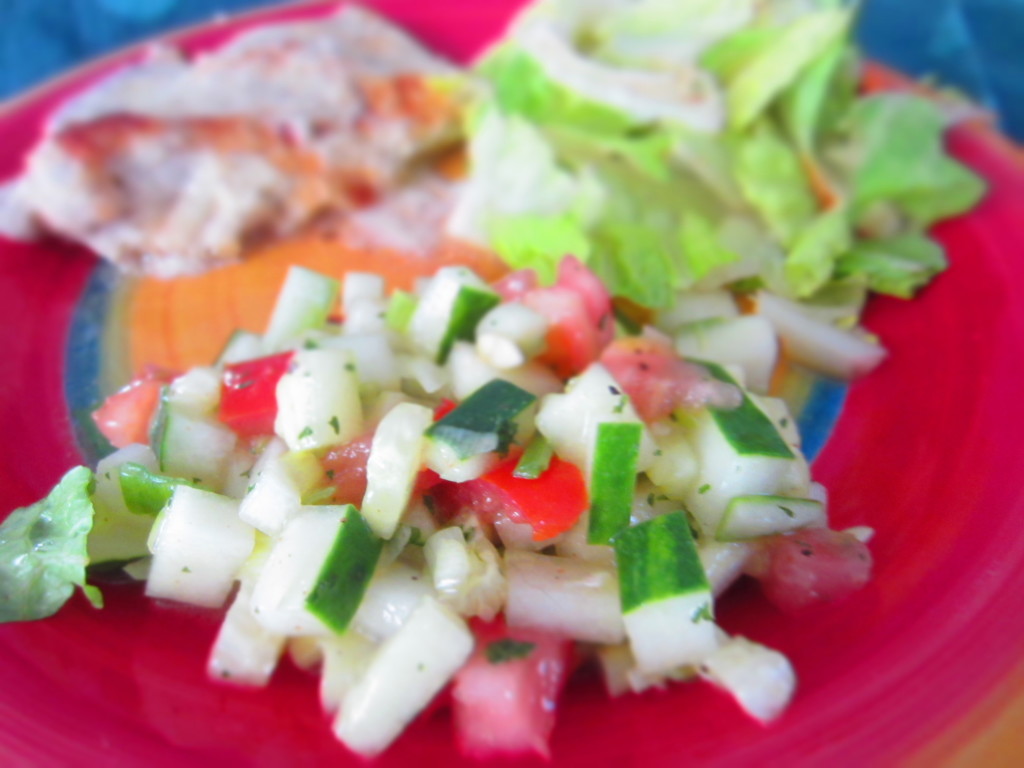 I went to my sisters house the other day and came home with half a bushel of cucumbers. If you don't know how big a bushel is…well I don't really know either because even half of one is more than I bothered to count! I'm not one to pickle things (not to mention these are gigantic cucumbers) so I took it upon myself to make up a cucumber salad to go along with our dinner that night!
I was really pleased with how the salad turned out. It tasted like a less intense version of those vinegar soaked cucumbers that people make (you know what I'm talking about…right?) with a little more depth of flavor. My husband thought it was a little too tart, I thought it was perfect. My suggestion to get it to your preferred flavor is to taste the salad after you've put the dressing on it. Do not taste the dressing itself to make your judgment. It's going to taste more intense than it will on the cucumbers. Pour the sauce over the vegetables and after taste testing it on there, if you feel like it needs more sweet you can add more stevia (or sugar, depending on what you are using).
This is just a simple side that is perfect for summer time. There will be plenty of cucumbers and tomatoes to go around in the next few months, so this will be a great recipe to have in your cooking repertoire. Not to mention you'll be using them up in a delicious way! I even ate this for lunch the other day, so if it's really hot and you aren't feeling too hungry this might be the perfect little dish to satisfy you!
Cucumber Salad
by: Becca F. Fillmore, dinnerforeveryone.com
4 cups cucumbers, finely chopped
1/2 cup green onions, finely chopped
1 cup tomatoes, finely chopped
Dressing:
1/4 cup olive oil
1/4 cup apple cider vinegar
2 tablespoons stevia (regular sugar will work here)
1 teaspoon dried parsley
salt and lemon pepper (or regular pepper) to taste
Combine chopped vegetables. Combine sauce ingredients through parsley. Pour sauce over vegetables and toss until evenly coated. Salt and lemon pepper the salad to taste. Can be served at room temperature or cold. Tastes great if it has time to sit and marinate, but is not necessary.