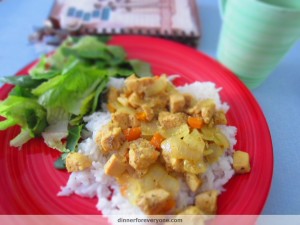 I can appreciate a good curry, and I can really appreciate one that doesn't take long to make! This meal was a fun experiment for me. I cut up the vegetables and chicken into really small pieces to give it a different aesthetic value than I had ever had in other curry dishes I've tried. It's fun to see how small changes like that can really give a dish a whole new feel! I also had my friend be a taste tester because she has had enough varieties of curry to give me an honest tip and tell me if I needed to add anything else.
Beyond that, it's a pretty basic meal. Simple ingredients done right can really do the job!
For me this is one of those simple and good dinners. A "go to" meal, if you will. It might also help that curry tends to be a sort of comfort food for me personally, I know it's not a typical across the board comfort food for everyone, but once you start eating curry dishes there's really no going back (in my experience anyway)!
Curry Chicken and Vegetables
by Becca Fillmore
1 lb chicken breast (salted and peppered)
3/4 cup carrots, chopped
1 small onion, chopped
4 cloves garlic, minced
2 tablespoons butter
1 1/2 cup chicken broth
1 tablespoon curry (feel free to add more if desired)
1/4 teaspoon ground ginger
1/4 teaspoon allspice
1/4 teaspoon cardamom
Chop chicken and vegetables into small pieces. Melt butter in a large skillet. Salt and pepper the chicken. Sauté chicken in butter until almost cooked through. Remove chicken and in the drippings add veggies and garlic into pan. Sauté about 5 minutes or until veggies are tender and fragrant. Add chicken back in, add broth and spices. Stir and let simmer for about 20 minutes* letting the broth cook down and slightly thicken. Serve over rice.
*If you wanted to add a cup of frozen peas at the last 10 minutes of simmer that would be another great addition to the meal. I really wanted to, but didn't have frozen peas (or peas of any kind) to add in. I will be giving that a try next time I make it.