Ever have one of those days where you just don't feel like cooking?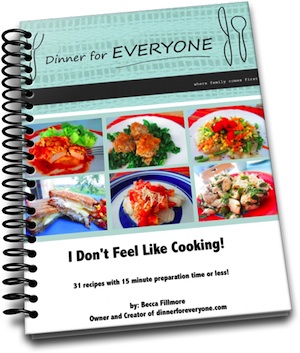 I love cooking, and I still have those days (a lot of them actually) where I just don't feel like doing it. So for all of us who feel this way (whether it's everyday or every once in a while) I put together a cookbook with recipes designed to come together quick, and take the pressure out of cooking.
What will you find in Dinner For Everyone's "I Don't Feel Like Cooking" cookbook?
All recipes have 15 minute preparation time or less
31 recipes to cover a whole month of "I don't feel like cooking" days!
Over half the recipes are exclusive to this book and will never be posted on dinnerforeveryone.com
Includes opinions and suggestions from people like you about how the meals worked for them and their families.
SATISFACTION GUARANTEED!!! If you are not satisfied with the cookbook and what it has to offer in 31 days (enough time to try every recipe if you want) then take advantage of our money back guarantee!
Buy Dinner For Everyone's "I Don't Feel Like Cooking" Cookbook and receive                        3 EXCLUSIVE holiday recipe videos and 1 exclusive recipe FREE