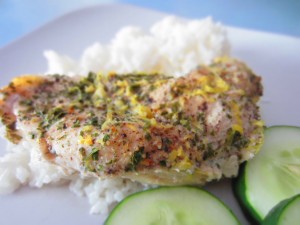 This lemon pepper recipe is super fast! It pops with flavor and literally takes about 30 minutes (cooking time included). Sometimes I feel like I have to spend a ton of time in the kitchen to have a flavorful meal. I just need to let the ingredients to do what they are meant to do and enjoy them! So put some of those naturally delicious flavors to the
test with this recipe and see what you think!
1 lb (or 4) boneless skinless chicken breast
1 heaping teaspoon lemon zest
4 tablespoons fresh lemon juice (about 1 per chicken breast)
1 heaping teaspoon dried parsley
1 heaping teaspoon pepper
salt
Put chicken breast in 8×8 pan. Lightly salt the chicken. Sprinkle pepper over top the chicken (feel free to add more pepper if desired). Sprinkle dried parsley over top chicken, sprinkle lemon zest over top and drizzle lemon juice over chicken. Bake chicken at 375 degrees for about 30 minutes or until chickens internal temperature is 170 degrees.
Serve with salad, rice, and lemon wedges.