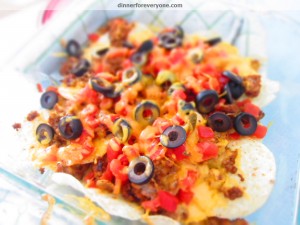 Game day is almost here and nachos are definitely something that people expect to be served! So why not kick it up a notch and do a delicious cheesy, meaty, and spicy (or not, if you don't like spicy) nacho spread for everyone? If you make this, I'd make sure to double it and do a couple 9×13 pans (or use a jelly roll pan) so everyone gets some. Once you start eating them you don't really want to stop!!!!!
Game Day Nachos
1 lb ground turkey
1/2 onion, chopped
1 package taco seasoning or homemade taco seasoning (recipe below)
Tortilla chips
8oz grated cheddar cheese
1 can diced tomatoes with green chilies
Sliced black olives
Preheat oven 350 degrees. Layer the bottom of a 9×13 pan with chips, sprinkle about half of cheese over top. Then sprinkle on meat mixture on top, then the tomato/green chili mixture, black olives, and the rest of the cheese. You can add whatever toppings you like. I like extra green chilies and to sprinkle it with extra crushed red pepper! Bake for 8 minutes or until cheese is completely melted. You can eat it right out of the pan or serve it out with a spatula.
Homemade Taco Seasoning
2 tablespoons chili powder
1 1/2 tablespoons dehydrated onion
1/2 teaspoon onion powder
1/2 teaspoon oregano
1 teaspoon cumin
1 teaspoon salt
1/4 teaspoon pepper
3/4 cup water or chicken broth
crushed red pepper
(any ingredient can be varied by taste)