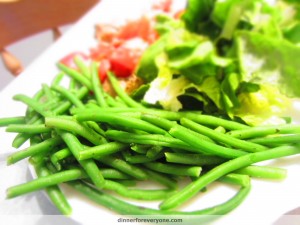 This is so simple you will wonder why you never thought of it before! This simple recipe is sure to add a great dimension to your meal. You can easily change the herbs to match the main dish so you have a side dish that truly nods to the flavor and focal point of your meal.
I know this isn't a full on Meatless Monday meal idea, but it is a great new vegetarian side dish that I thought would debut well on a day like today!
We were having Simple Feta Chicken for dinner and I was making some green beans and salad to go along with it. I was trying to think of something that could make the green beans pop a little more. Of course butter and extra salt always comes to mind, right? Well, I wanted to go a little different direction and see how it would turn out.
I looked at my main dish and simply picked out some things in my spice cupboard that I thought would compliment the taste of it. This is what I ended up with.
Herbed Green Beans
1 pound green beans
1/4 teaspoon garlic powder
1/4 teaspoon onion salt
heaping 1/4 teaspoon of basil
Steam green beans (or cook them however you prefer). Sprinkle garlic powder, onion salt, and basil over top. Toss to coat.
Like I said, you can change the herb to compliment whatever meal you are having!