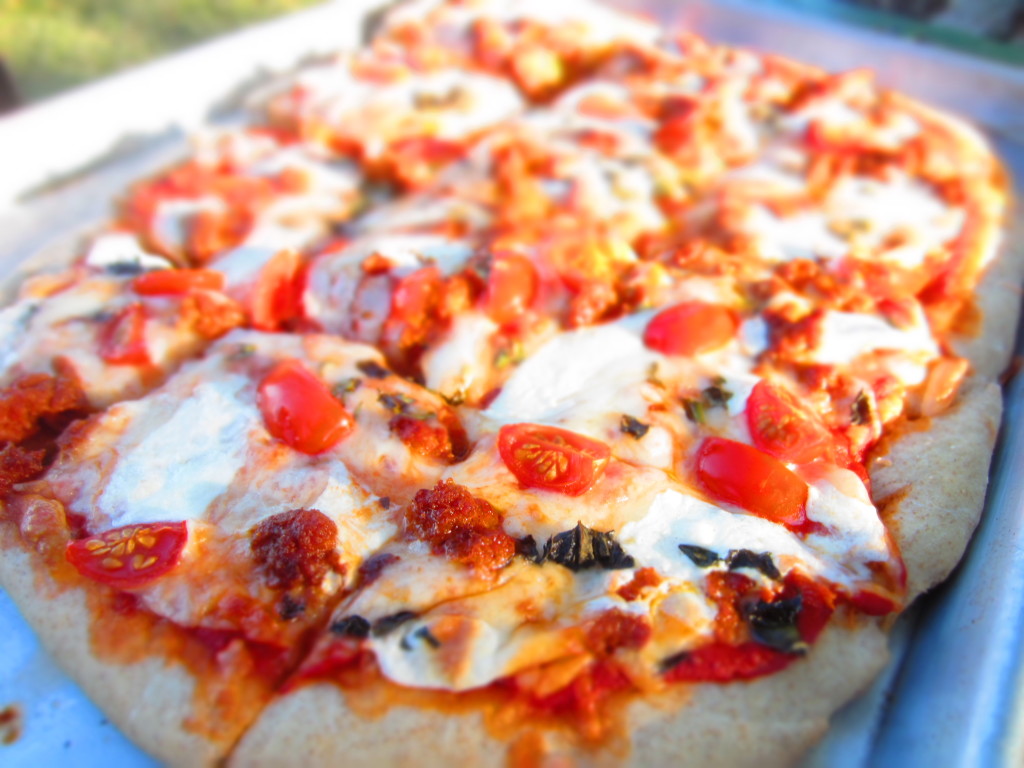 Yes, another pizza! I am in love with this little creation! It came about because my husband had gotten me nachos at a football game (I have a HUGE weakness for the disgustingly delicious nacho cheese) and he didn't get any jalapenos on them. I probably would have only eaten one and scraped the others to the side but not having them on there left me wanting something hot to eat. So when I went to buy sausage for a pizza topping I bought some hot, Italian sausage. Of course, on the pizza itself it really doesn't taste very hot at all. With all the bread and cheese surrounding it, it balanced out very nicely. No worries though, I ate enough plain sausage to get my hot food fill for the year.
This pizza is a fun one to eat. I put fresh mozzarella on it along with the regular, harder mozzarella cheese. It really gave it another dimension to the flavor. Putting fresh tomatoes on top was another nice touch because they get roasted in the oven and that way you really don't miss out on any of that flavor.
Of course fresh basil and the Italian sausage always do a number (for good) to any dish you use them in. They really helped pull it all together…and now that I'm done writing about this little pizza I REALLY, REALLY want to eat it again. Maybe I'll make another during our next family pizza night, or maybe I'm just hungry!
Italian Pizza
by Becca F. Fillmore, dinnerforeveryone.com
1/4 cup Italian Sausage (I like the hot kind, with all the cheese and bread surrounding it, it really does taste mild)
1/4 cup chopped, fresh basil
1 cup cherry tomatoes, quartered
4 ounces fresh mozzarella
regular mozzarella
Cook italian sausage on stove top until done. On your pizza dough layer desired amount of pizza sauce and regular mozzarella cheese. Then thinly slice fresh mozzarella and space it evenly on top. Sprinkle on cherry tomatoes, basil and sausage. Bake according to crust (my crust is usually 425 degrees for 15 minutes)