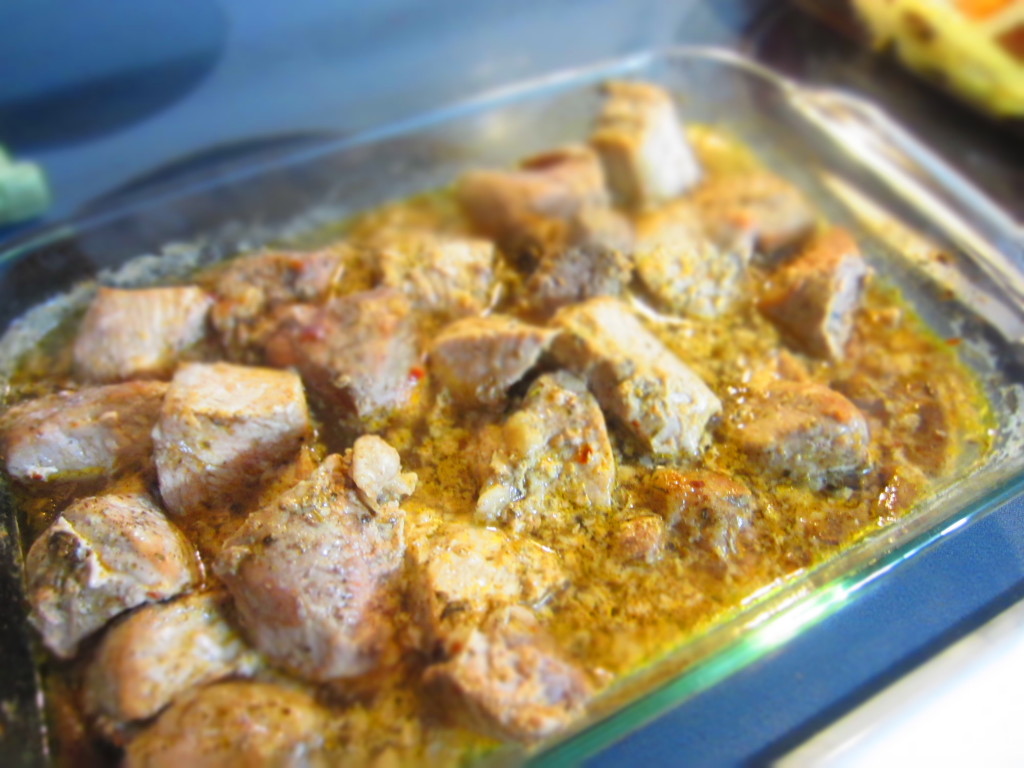 Not super pretty, I know, but the taste makes up for it! I promise! Not to mention the fact that it's nice and simple. You literally whisk together 6 ingredients and pour it over top chopped up boneless pork ribs, let it marinade for 3o minutes, and put it right in the oven. If that doesn't sound like a great dinner to you, I don't know what does!
This is such a great, warm dish! If you are worried that the jerk seasoning will make it too hot, don't! The honey evens out the flavor nicely so you just get a warm flavor in the back of your mouth, not the tip of your tongue on fire!
I love serving this over rice so I can spoon the drippings over top. Then you get the delicious flavor in every single bit of the meal! Any time I have a dish with a kick to it I like to eat it with a dark green vegetable. It seems to help even everything out for me. Another great side to go along with this meal are my Jerk Seasoned Sweet Potatoes, since you have your jerk seasoning out anyway, you might as well try these!
Jerk Seasoned Pork
by: Becca F Fillmore, dinnerforeveryone.com
1 1/2 pounds boneless pork ribs, cut into chunks
1/2 cup Orange Juice
2 tablespoons olive oil
2 tablespoons honey
2 teaspoons jerk seasoning
2 teaspoons Worcestershire sauce
1/2 teaspoon ground sage
Whisk together orange juice, olive oil, honey, jerk seasoning, Worcestershire sauce, and sage. Put chopped up ribs into a 7×11 pan. Pour whisked jerk seasoned sauce over top. Let it marinade for 30 minutes. Bake at 375 degrees for 35 minutes or until cooked through. Serve over rice, pouring the drippings over top. This pairs nicely with a dark green vegetable.