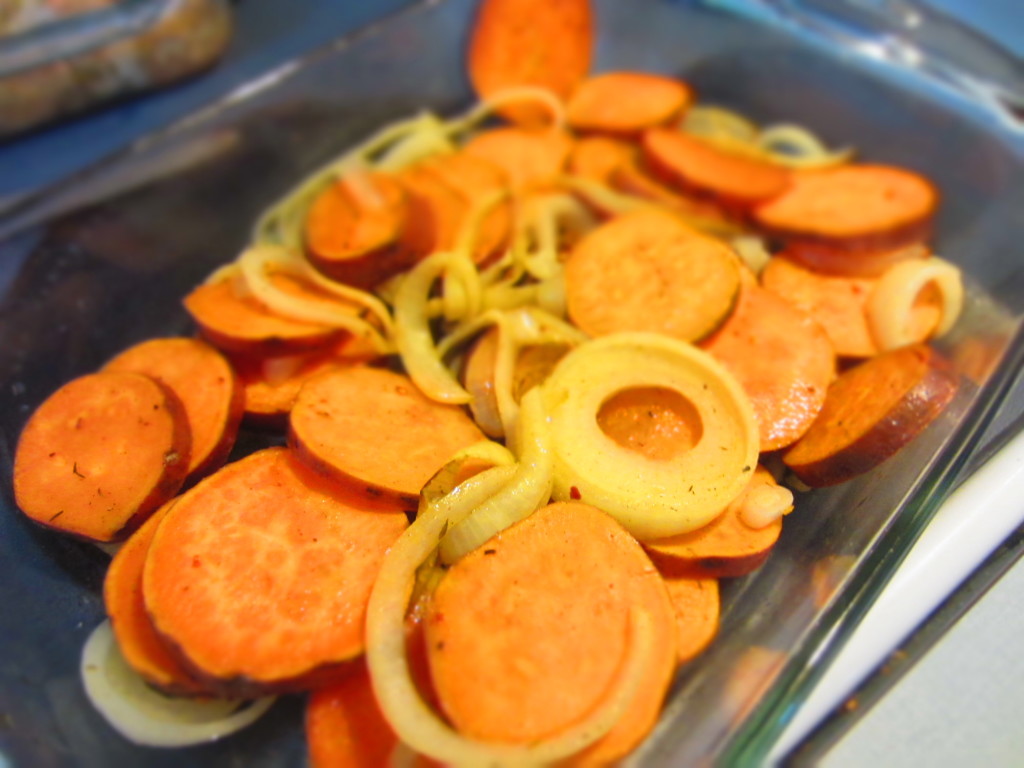 I love sweet potatoes! I love them simply baked served with butter, I loved them mashed, I love them sliced, and in any other form you can think of. My husband, on the other hand, doesn't. He doesn't mind them, but usually doesn't go out of his way to eat them. This recipe somehow did it for him though. He went out of his way to tell some of our friends that he liked this recipe! So of course that means that definitely passed the test and you get the recipe now!
I was inspired by some random recipe I saw that had mashed sweet potatoes with a bit of Cajun seasoning in them. I had never thought of trying that type of flavor with sweet potatoes, so I thought I'd do a little experimenting of my own. I decided to slice my potatoes into disks and add onions sliced the same way. Let's be honest, onions make everything taste better so I knew that so far I hadn't taken a wrong turn!
Then came for the seasonings. I decided to go with jerk seasoning, but I didn't want the dish to be too hot or the flavor too one sided. I still wanted to taste the sweet of the sweet potato. So with a little salt and brown sugar I brought out the sweet. This was the perfect touch because when I tried them it had a wonderfully warm undertone to every sweet bite of the potato. I will be making these again!!!!
Jerk Seasoned Sweet Potatoes
by: Becca Fillmore, dinnerforeveryone.com
2 medium-large sweet potatoes, sliced into disks
1 medium onion, sliced into rings
3 tablespoons olive oil
1 teaspoon salt
1/2 teaspoon jerk seasoning
1 tablespoon brown sugar
In a large bowl combine all ingredients. Toss to coat. Pour in a 9×13 baking dish. Bake at 375 degrees for 35 minutes or until sweet potatoes are easily pierced with a fork.