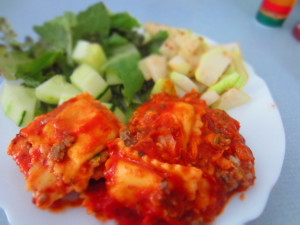 Here we go! Week 1 of meal planning is officially here! I will be providing you with meal plans for the next 5 weeks and will continue to post links to them throughout the rest of the year. So gear up to have a few things made a little bit easier for you when it comes to grocery shopping and dinner time.
Here I have a list of meals for you (which are linked right up to the recipes on dinnerforeveryone.com, they are just a click away). Then I will have a grocery list of everything you need to make those meals happen. I will have a "cupboard ingredient" list. This is a list of things that are common items that you might have in your cupboard, like oregano, salt, pepper, etc. Make sure to check over this list, if you don't have something that is listed, be sure to add it to the grocery list. Lastly, next to each meal in italics is a suggested side dish. There will also be a side dish grocery list if you wish to use that.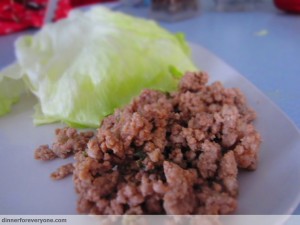 IMPORTANT NOTE: The first two, bolded meals of the recipe lists are my "Two for One" meals. I have had requests to try to incorporate these types of dishes onto my site, so here you go! A note will be by the meals giving instructions on how to make that second night of cooking even faster than the first!
At any time look under the category "Time Saving Tips" to find meal planning posts!
Meal List for Week 1:
Chicken Ranch Wrap, fresh cucumbers: Bake or sauté both the chicken for the Wraps and the Stir Fry. Reserve half of the chicken and refrigerate.
Chicken Stir Fry, rice and fresh bell peppers: The night you are making Stir Fry simply sauté up the vegetables, add the reserved, already baked chicken until heated through and add the sauce.
Asian Lettuce Wraps, rice and steamed broccoli
Baked Ravioli, Salad
Ingredient Grocery List:                                                                                                           3 lbs Chicken Breasts                                                                                                                               1 lb ground pork                                                                                                                                      1 lb ground beef                                                                                                                                       1 can black beans                                                                                                                                     1 can corn                                                                                                                                                 2, 24 oz "original" or basil pasta sauce                                                                                    Lettuce (for chicken ranch wraps)                                                                                              Large leaf lettuce (for asian wraps)                                                                                           Ranch Dressing                                                                                                                                        1 zucchini (or 8oz mushrooms, or frozen spinach, refer to baked ravioli recipe)                      1 small onion                                                                                                                                     fresh garlic                                                                                                                                                1 inch fresh ginger                                                                                                                                   1 small bunch green onions                                                                                                                    1 bag frozen stir fry veggies or mixed veggies                                                                               soy sauce                                                                                                                                               honey                                                                                                                                                         1 pkg large, flour tortillas                                                                                                                  rice vinegar                                                                                                                                        sesame oil                                                                                                                                                1, 25 oz bag of frozen ravioli                                                                                                                 eggs
Side Dish List:                                                                                                                           rice
fresh cucumbers
salad
bell peppers
brocolli to steam
Cupboard Ingredient List: salt                                                                                                                                                          pepper                                                                                                                                                       corn starch                                                                                                                                           dried oregano                                                                                                                                            dried basil                                                                                                                                                dried parsley