A combination of coconut oil, brown sugar, honey, peanut butter and vanilla (all melted together) mixed with quick oats brings you amazing no bake granola bars.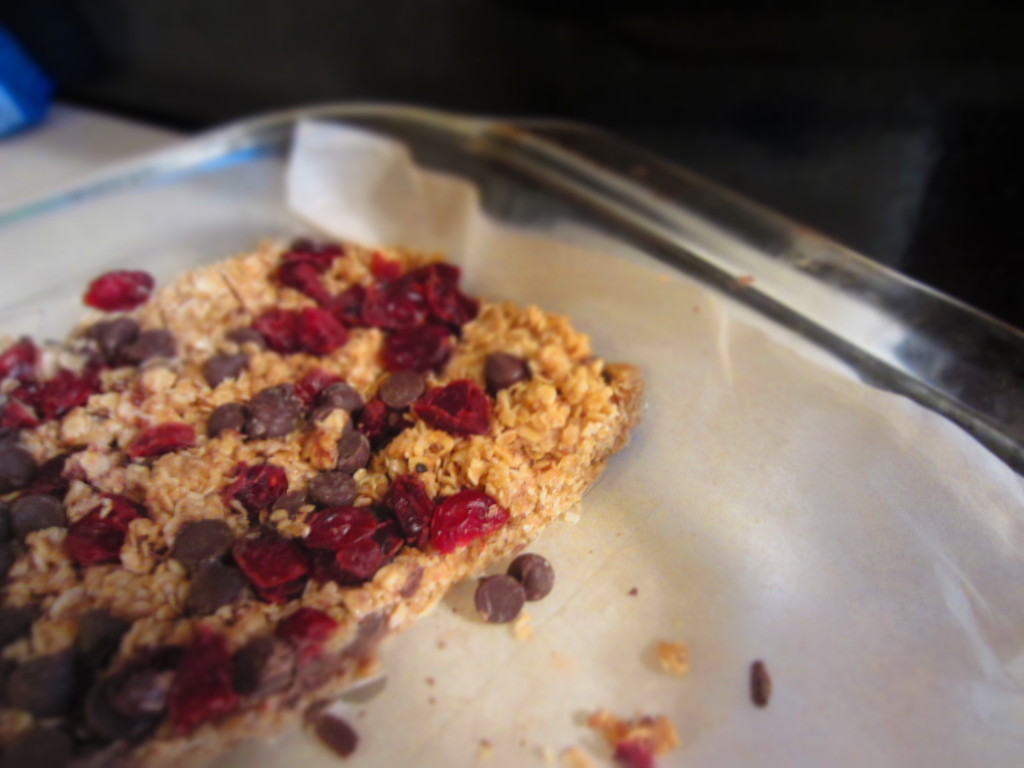 Ok seriously???? I have tried homemade granola bars before. I liked them all, but never made them again. Some were chewier than others, most turned out a bit crunchy. Here's the thing, I really like chewy granola bars. I will often buy crunchier ones from the store though, because they seem healthier. Something to do with my ideas about corn syrup or something…Anyway, I found this recipe on facebook, and I adapted it to fit my family. Here is the best part, they are NO BAKE, they are CHEWY, and there is NO CORN SYRUP!!!
WOOT! I was really happy about this wonderful discovery. First off, we have made this recipe multiple times a week as of late. My kids like them plain or with chocolate chips. Matt and I love packing them full of nuts, dried fruit, and chocolate chips. My latest was a combination of chocolate chips, dried cranberries, sunflower seeds, peanuts, and almonds. Oh man, that was my favorite combination so far! Next time I am going to try just throwing in a cup of mixed nuts and see how that turns out. If you want to go themed, you could easily put chunks of marshmallows, chocolate and graham crackers to make a s'more granola bar. I think it'd be fun to try a "chip theme" and throw in white, chocolate, and peanut butter chips. The possibilities are truly endless, and they are just so stinking good!!!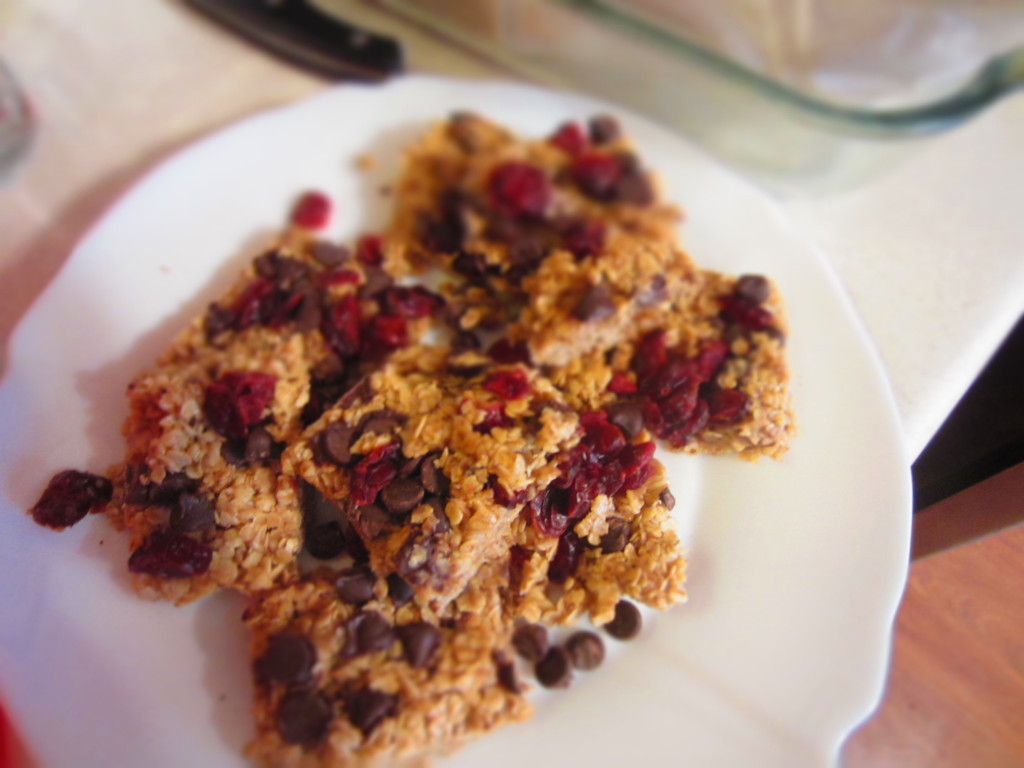 Another thing I love about this is that it is very forgiving. I can put a little more peanut butter, a little less sugar, and a little more vanilla and it all turns out ok. I just make sure to get all of the coconut oil and I feel comfortable with whatever else ends up in there. It's also very forgiving when you have all those little fingers "helping" you in the kitchen. Really, does it matter if they accidentally pour the entire bag of chocolate chips in there? No, it really doesn't (and really, who the heck is going to complain about extra chocolate chips?)! It's also really fast to make. It takes me about 15 minutes when my kids are helping me. 10 or less when I do it on my own.
Lastly, how great is it to have a snack in your house that isn't full of preservatives and other questionable ingredients that you don't know how to pronounce, let alone what they are! Don't get me wrong, there are lots of great healthy granola bars out there, you don't have to tell me! I just really think that if you can make it in your own kitchen and you know the ingredients that are going in to it, it's GOT to be better for you, if nothing else, it's better for your soul!
No Bake Granola Bars
by: Becca F. Fillmore, dinnerforeveryone.com
1/2 cup coconut oil
2/3 cup brown sugar
1/2 cup honey
1 tablespoon peanut butter
1 teaspoon vanilla
4 cups quick oats
Any other "add ins" you enjoy!
example: any kind of nut, or seeds, rice crispy cereal, chocolate chips, marshmallows, dried cranberries, any kind of dried fruit. I suggest about 1/4 cup of each add in, up to 5 add ins. Use your judgment as you are mixing these in. If you feel like the mixture will hold more, go ahead and add more. If not, add less.
On the stove top melt coconut oil, brown sugar, honey, peanut butter, and vanilla together. Remove from heat and add quick oats and any other add ins. Line a 9/13 pan with parchment paper. Add Granola Bar mixture in pan, flatten with your hands or a spatula. Cover and put in the fridge for 30 minutes. Enjoy after they have firmed up!