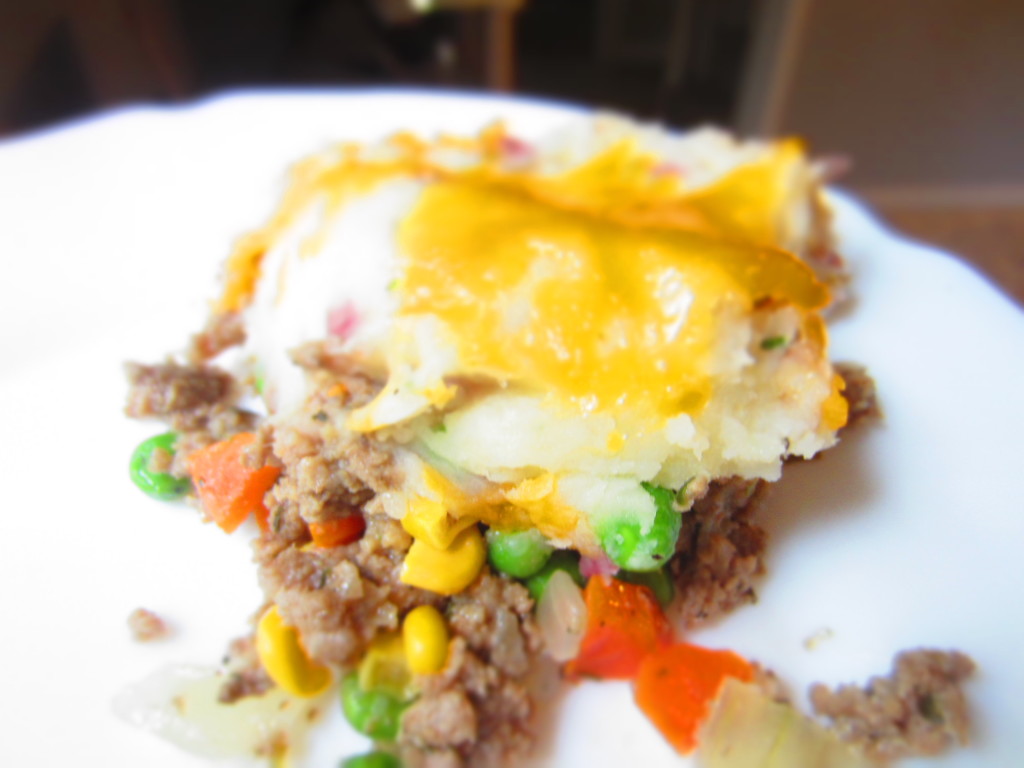 Shepherds pie is one of those things that I have heard of pretty much as long as I can remember, didn't eat it a lot growing up, and have only made once before I think. I decided to make my own version of it to contribute to the plethora of dishes I have on here!
Shepherds pie is a pretty straight forward dish, but it was still fun to find a way to make all these flavors of vegetables pop! The most important thing here will be the adding of herbs and garlic. This will give it a rich flavor that can really set it apart. As for the vegetables, you could probably put in a variety of them. I just happened to have carrots, peas, corn, and onions. I have a bunch of fresh green beans right now from the farmers market and my Community Supported Agriculture cooler I get every week, those would be delicious in there! So don't be too worried if you have the exact vegetables on my recipe, like I said, the herbs  and garlic will really be the key here.
The other nice thing about this recipe is that you don't have to bake it! Most shepherds pies take about an hour or more to make, including bake time. In my recipe you simply add the potatoes on top, sprinkle on some cheese and cover it until the cheese melts. It's kind of a fun twist of this meal that's been around forever!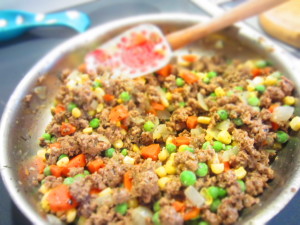 Filling:
1 pound ground turkey, beef, or lamb
1 cup chopped onion
1/2 cup chopped carrots
1/2 cup corn kernels
1/2 cup peas
3 cloves garlic, minced or pressed
1/2 teaspoon thyme
1/2 teaspoon basil
1/4 teaspoon oregano
1/4 garlic powder
3/4 cup broth (chicken if using turkey, beef if using lamb or beef)
2 tablespoons cornstarch
Topping:
4 cups potatoes, chopped
3 tablespoons butter
1 teaspoon onion powder
1/2 teaspoon parsley
1/2 cup shredded cheddar cheese
Chop potatoes and put the potatoes in a pot of water to boil. While potatoes are in the process of boiling start to brown your meat and chop your onions and carrots. When meat is about half way done add your onions, carrots, and minced garlic. When meat is done the carrots and onions should be tender also. Drain fat as needed. Add corn, peas, thyme, basil, oregano and garlic powder. Combine corn starch and broth. Add to the vegetable/meat mixture and let simmer until thickened. By this time your potatoes should be very tender. Drain the water out, mash your potatoes and add butter, onion powder, and parsley. Pour filling into a serving dish, top the filling with potatoes, top potatoes with cheese. Cover the dish until cheese is melted. Serve hot!