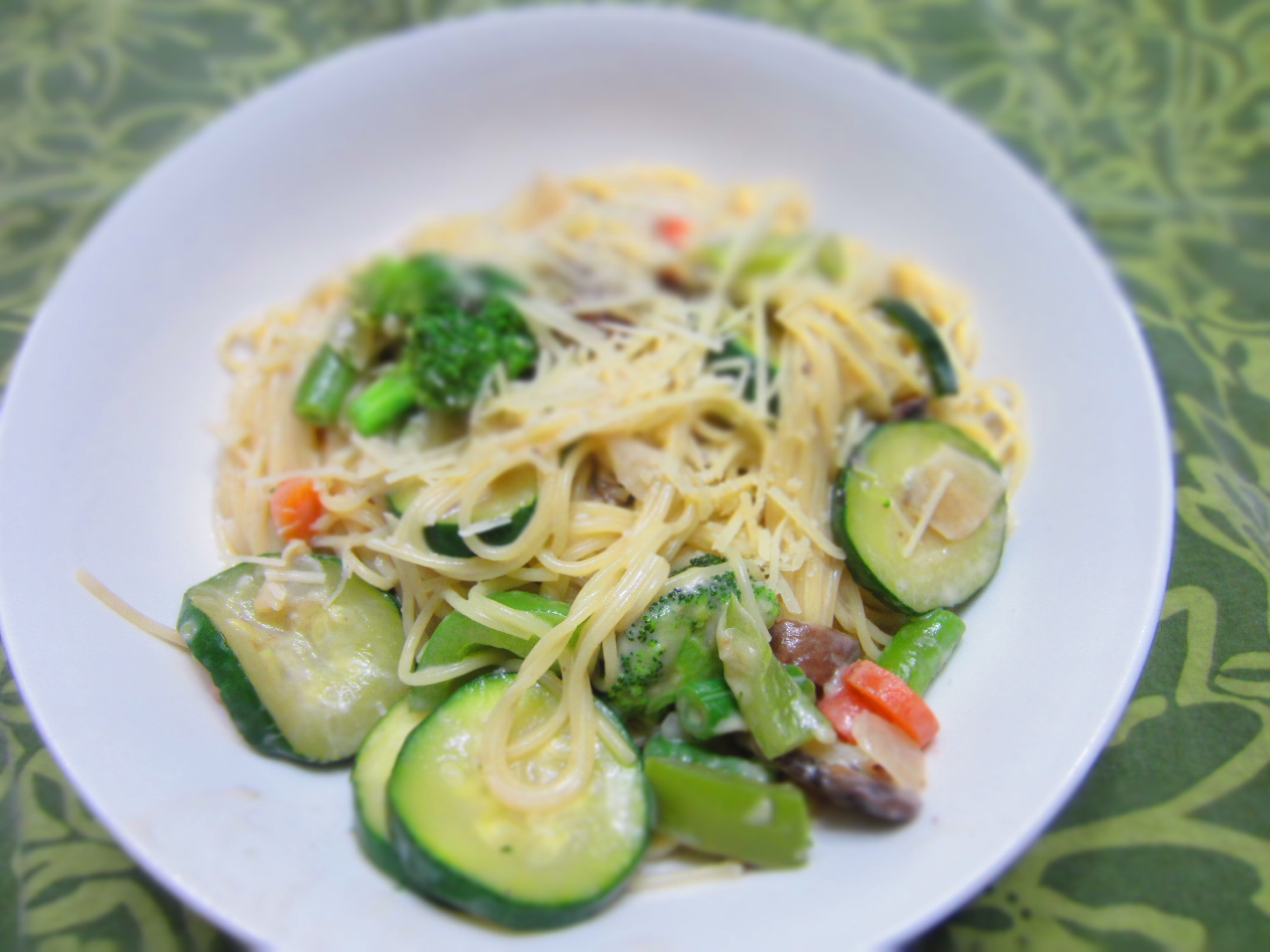 This dish has some serious yum going on! I was surprised at the amount of flavor that was behind this simple sauce, veggie, and noodle combo.
I didn't really know what "Primavera" even was for a while. Then I looked up a definition finally (once I'd heard the term enough to peak my curiosity) and I saw that it's typically a pasta dish with little to no meat in it at all. If it has meat in it, the emphasis of the dish is still on the vegetable, not the meat.
There is a lot of chopping involved in this dish but it is SO worth it. If you are chopping while the noodles are cooking it seems to work out time wise pretty well anyway. Or you could chop with a friend and it all goes way faster! I recruited my sister into helping me with this dish, so it was less work for me! Sisters are great like that!
I like to saute up the vegetables all at once for a couple of reasons. First, it's way easier, and second, I like the varying textures it ends up giving the dish. Some of the veggies are more tender than others but it just adds variety, texture, and depth to the dish. Add a simple sauce on top and this thing has some serious flavor.
This is a great dish to make when you are having guests over. People just love it! For me, this is a great comfort food dish. It's packed with vegetables so you've got nutritional benefits, but they are all warm and entangled in noodles with a light creamy sauce. All the ingredients of comfort but not as heavy on your stomach as many other "comfort food" type dishes are.
Pasta Primavera
by, Becca Fillmore
1 lb cooked angel hair pasta
cook pasta
1 cup carrots, chopped

1 cup broccoli chopped

1 bell pepper, chopped
8 ounces baby bella mushrooms, sliced
3 cups yellow squash or zucchini, sliced
1 cup green beans, chopped
2-3 tablespoons olive oil
Saute all vegetables in olive oil until tender.
1 medium onion, chopped
3 garlic cloves, minced
1 1/2 tablespoons butter
1, 14 ounce can chicken broth
Saute onions and garlic in butter for a couple minutes. Add broth and bring to a boil and let reduce for 5 minutes.
1/2 cup cream
2 tablespoons flour
Whisk together cream and flour, add to reduced chicken broth mixture.
1/2 cup Parmesan
salt and pepper to taste
Add Parmesan and salt and pepper. Combine sauce, sauteed vegetables, and pasta. Toss to coat noodles and evenly distribute vegetables.  Serve warm with extra Parmesan on top!
click image below for printable format