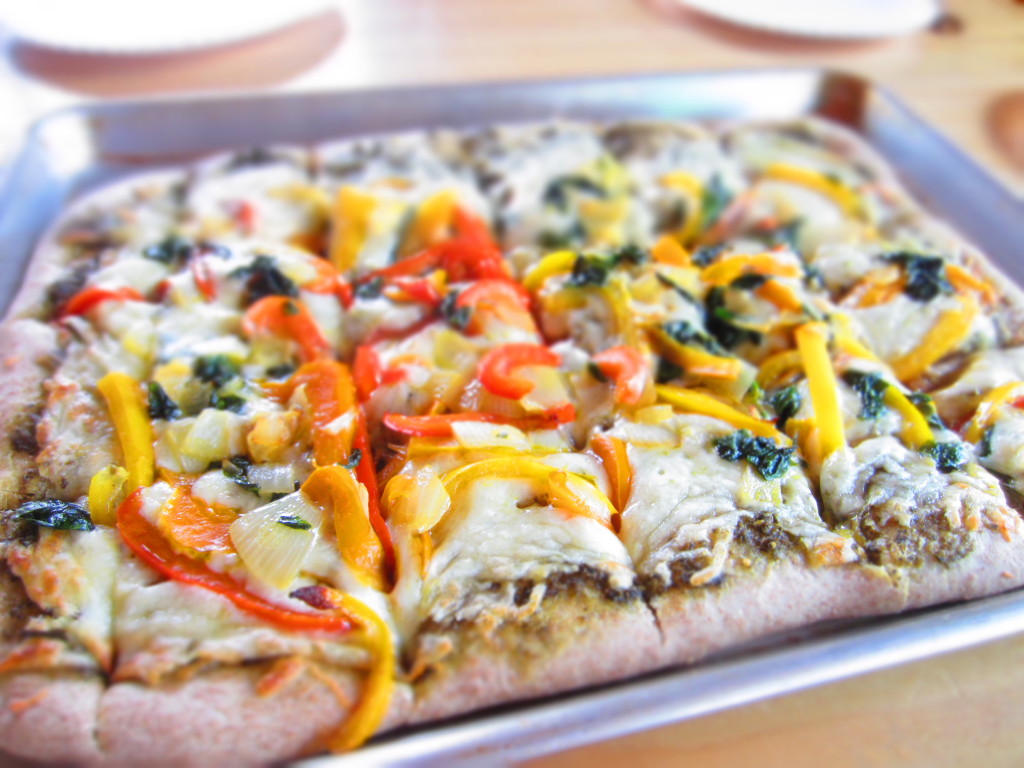 I've been wanting to try this version of pizza for a while now and I finally had the chance to do so on our family vacation! I made five pizzas for the whole gang, which of course means I made five different kinds of pizza! Among the pepperoni, halfway supreme, cheese, and Canadian bacon and pineapple there was a shining star the Pesto Pizza!
It's really a simple idea, sautéed vegetables on a pizza that has pesto on it instead of the traditional red sauce. There wasn't too much to it, but there was plenty to the flavor! I was so glad it turn out as well as it did, it would have been a shame to waste that entire pizza! Leave it to us Fillmore's though, I think all but five small cheese pieces of pizza were gone by the time we finished up the meal. I might add here, that it was more than just the 4 of us in my little family. We were on a reunion trip with my in-laws (hence "the whole gang") though, Matt and I can hammer out
a couple of pizza's on our own if we put our minds to it, we shared this time!
Pesto Pizza
by Becca F. Fillmore, dinnerforeveryone.com
1/2 onion
1/2 red pepper
1/2 yellow pepper
1 packed cup of spinach (about 2 handfuls)
1-2 tablespoons olive oil
about 4-5 ounces Pesto
about 1 1/2 cups of mozzarella cheese
Sauté onion and peppers in olive oil, when onions are opaque add spinach. Sauté until spinach is wilted. On pizza crust spread out pesto sauce, add cheese, and spread sautéed vegetables on top. Bake according to pizza crust.