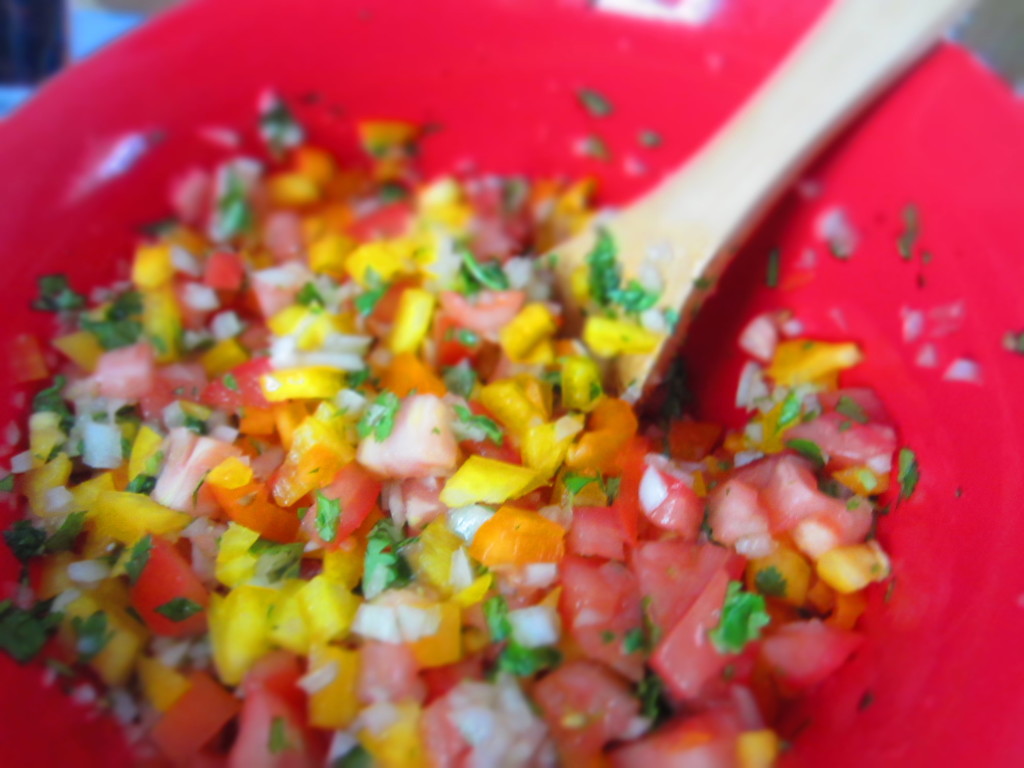 Pico De Gallo is an uncooked salsa that is tomato, onion, and chili based. In my Pico De Gallo I decided I didn't want a burning mouth (I pick my battles with heat) and I used bell peppers instead. I've seen this type of salsa made up in many different variations, so I thought I'd share mine!
This recipe really is simple, and it is such a great dish that is refreshing eat! It has so many fresh flavors in it and I absolutely LOVE how the onion contrasts with the sweet of the bell peppers.
This dish never lasts long in my house. It pairs great with chicken dishes (I substitute this for rice on a regular basis) or also just with the traditional tortilla chips. I was able to make this for a local TV show called "John's Food Court" which was a great experience for me…all the chopping on TV was great practice! Trying to talk and chop and think about camera angles….well, I'm just glad I came out of there with all of my fingers! They loved how it turned out though, so you don't just have my (and my husbands) word that it tastes good, you can take the crew of the shows word for it too!
Pico De Gallo
by: Becca Fillmore, dinnerforeveryone.com
2 cups tomatoes, diced
1/2 cup diced onion
1 1/2 bell peppers, diced
salt to taste
1/4 cup fresh cilantro (about 1 handful) chopped
Combine all above ingredients. Serve as a salsa with chips, as a bed under lime chicken or sautéed steaks, or anything else you can think of! ***the measurements here are approximate. If you have or want more of an ingredient, just add it to your liking.***