Simply sauteed onions, cilantro, and tomatoes dress your pork chop up in just the perfect way to kick it up a notch!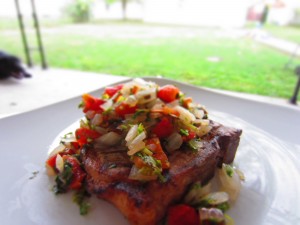 We love grilling out in the summer and I love experimenting with different marinades or toppings to make each time we grill a little culinary adventure.
This pork chop topping ended up being super easy and would really probably be great on any meat dish. It gives it a great fresh taste to your grilled meat, thanks to the cilantro! This is perfect for summer time and will satisfy all taste buds!!!
Pork Chop Top
by: Becca Fillmore, dinnerforeveryone.com
1 small onion, chopped
1 tomato, chopped
1/4-1/2 cup chopped cilantro
2-3 tablespoons Olive Oil
4 pork chops
Grill, bake, or sautee pork chops. In a frying pan heat olive oil and add onions. Saute onions until almost opaque. Add in tomatoes until warm and last minute add cilantro, stir until combined. Top your pork chops with