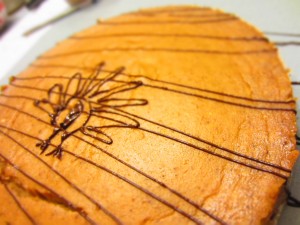 I love pumpkin pie and cheesecake so pumpkin cheesecake sounds like the perfect thing to eat on Thanksgiving, right? I wasn't really supposed to make anything more than an apple and berry pie for our meal tomorrow but I really wanted this so I made it anyway.
Let's be honest, I'll probably be bringing over a lot of food to my in-laws that we didn't plan on me making….but I just can't help it! I keep thinking of more food I want for Thanksgiving so I keep making it! I don't think anyone will complain though.
So, back to the pumpkin cheesecake, I made an oatmeal crust and a pumpkin cheesecake top (obviously). I made this in an 8 3/4″ spring pan, you could definitely fit it in a smaller spring pan to make it a truly thick cheesecake, the cook time would probably take longer though.
Crust:
1/2 cup flour
1/2 cup oatmeal
2 tablespoons sugar
1 tablespoon brown sugar
1/4 melted butter
combine above ingredients and press into the bottom of a spring form pan. Bake for 10 minutes in a 350 degree oven.
Filling:
7 ounces cream cheese
3/4 cup sugar
1 egg
1, 15 ounce can pumpkin
1 teaspoon cinnamon
1/2 teaspoon nutmeg
1/4 teaspoon allspice
1/4 teaspoon ginger
Mix sugar and cream cheese until smooth, add egg. Scrape down sides and beat for 3-5 minutes. Add pumpkin and spices. Mix until combined and smooth. Pour into spring form pan. Bake at 350 degrees for 40 minutes. Top with drizzled chocolate (optional).