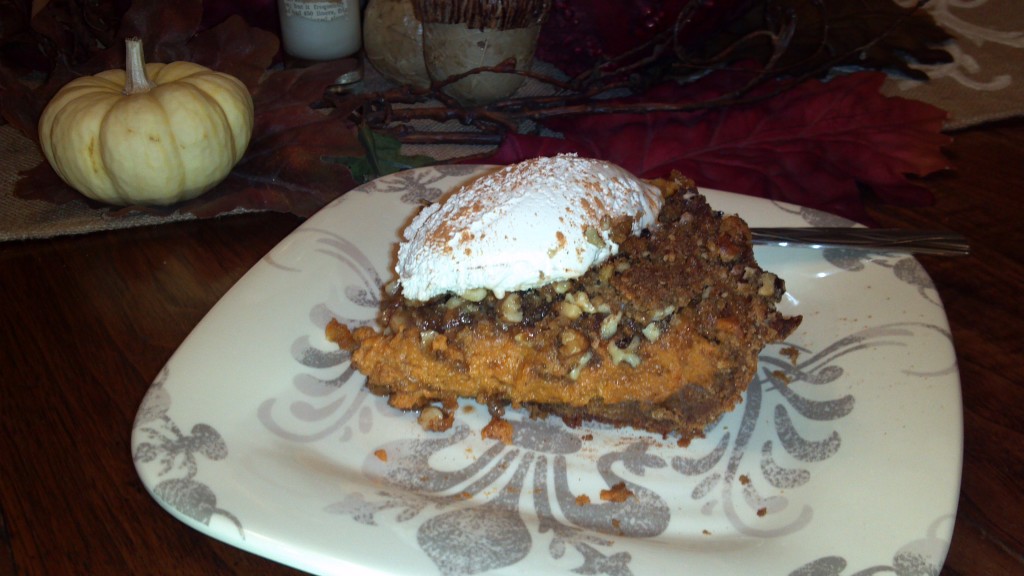 Hi! My name is Jenna K. I'm a stay at home mom of two girls, who enjoys cooking and trying out new recipes! In my spare time, my reading material is normally a cookbook!! My favorite season is fall, so I thought would share two of my fall favorites! Hope you enjoy from my home to yours!! Happy November!!
Recipe Number 1 (tomorrow you will get recipe number 2)
This pie was first made for me by my friend, Lynette, when I came home from the hospital with my first born. It has since become a fall staple in our home!! We enjoy it most straight from the fridge.
Pumpkin Walnut Pie
Graham Cracker Crust:
1 sleeve of Graham Crackers (crushed)
3 tablespoon sugar
4 tablespoon butter, melted
Pat mixture into a pie dish. Bake at 350 degrees for 8-10 minutes.
Filling:
1 (15 oz.) Libby's can of pumpkin
1 (14 oz.) sweetened condensed milk
1 egg
1 ¼ tesapoon cinnamon
½ teaspoon ginger
½ teaspoon nutmeg
½ teaspoon salt
1 teaspoon vanilla
Heat oven to 425 degrees. Combine ingredients and pour into crust. Bake 15 minutes and take out of oven.
Topping:
¼ cup brown sugar
2 tablespoon Flour
2 tablespoon Soft butter
¾ cup chopped walnuts
Mix together brown sugar, flour and walnuts. Cut butter into mixture till pea size. Put topping onto pie. Bake at 350 degrees for about 40 minutes. Serve warm or cold with cool whip.