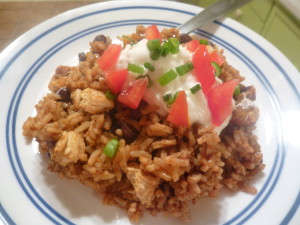 While perusing through the DFE site (and the new design looks great, right?), I found
one or two recipes that Becca already posted which are similar to this one:
Taco Chicken and Spanish Rice, and Taco Seasoned Chicken and Rice. What makes
this one different? It's made on the stove top and takes less than 15 minutes. I'm not
sure how this recipe ended up in my box, but I've altered it over the years to make it the
perfect "dinner should have been ready 20 minutes ago" recipe for busy nights. As long
as I have thawed chicken in my fridge, I can whip this out in no time.
The original recipe called for multiple chicken breasts, one for each person at the table.
I found that I didn't need that much, plus, I liked to have the chicken evenly distributed
throughout and it requires less cooking time. But, most of all, I'm cheap and like to
stretch my meat as far as possible. If you would like to use more chicken, you may have
to up the first cooking time a bit to make sure all the meat is cooked through by the time
the dish is ready to be served.
Quick Stove Top Southwest Chicken & Rice
Recipe by: Clare G.
1 thawed boneless, skinless chicken breast, cubed
1 c. salsa
1 package taco seasoning mix
1 1/2 c. water
2 c. Minute Rice
1 can black beans, drained
1 c. shredded cheese
Desired taco fixings (sour cream, onions, tomatoes, etc.)
Bring chicken, salsa, taco seasoning mix, and water to boil in a large skillet; cover.
Simmer 7 minutes. Return to boil. Stir in rice and beans. Sprinkle with cheese; cover.
Cook on low heat 5 minutes. Top with desired taco fixings. Make 4 servings (or enough
for my husband, 3 small children, and myself).
Enjoy!
Clare