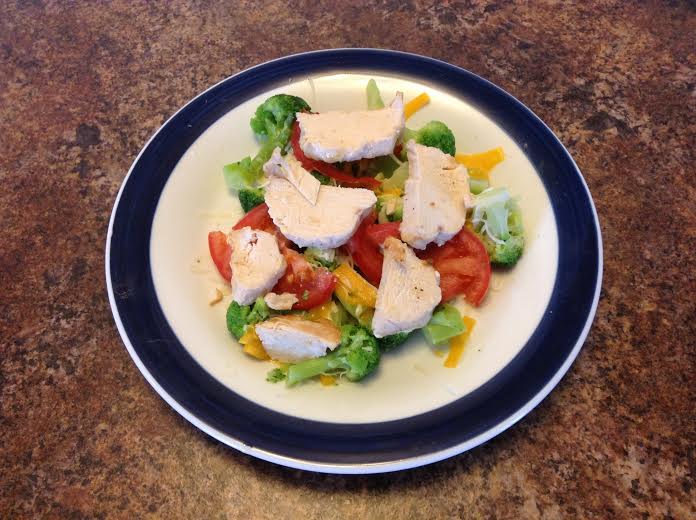 This is a really easy recipe, that I love. It is perfect for one person. I was just looking through my freezer and fridge to see what I should eat for lunch and came up with this meal.
I came across broccoli that had been there for a while so I thought I'd be healthy and have some broccoli and cheese. When it comes to the type of cheese to use you can really just use what you like. I used cheddar and an Italian cheese blend. Well I saw the chicken breast too and since I just learned the secret to cooking moist chicken breast I of course wanted chicken (I'll share the secret in a second). I wanted my favorite snack as well, tomato with basil leaves on a piece of toast with some mayonnaise. Since I had all the ingredients out I combined them to make this delightful meal.
Now, the secret to cooking moist chicken in the oven. It's pretty simple actually. All you need to do is put the raw chicken in the oven when it's still preheating. Preheat your oven to 350 degrees, get your chicken in your cooking dish and immediately put it in the oven. Put the timer on for 30 minutes as soon as you put the chicken in.
Now that you have the secret to moist chicken and the background of this meal, you can make it for yourself!
-Ben
Ranch Chicken on Broccoli 
by: Ben F.
1 chicken breast
2-3 tablsepoons ranch dressing
1 cup broccoli
1/2 tomato
1/4 cup cheese (whichever kind you like, or have)
Put ranch dressing on raw chicken and put in the oven while it's still preheating to 350 degrees. Start the timer for 30 minutes as soon as you put the chicken in the oven. Boil broccoli until cooked. Salt broccoli to taste and top with cheese and tomatoes. Top Broccoli, cheese, and tomatoes with the cooked chicken breast.