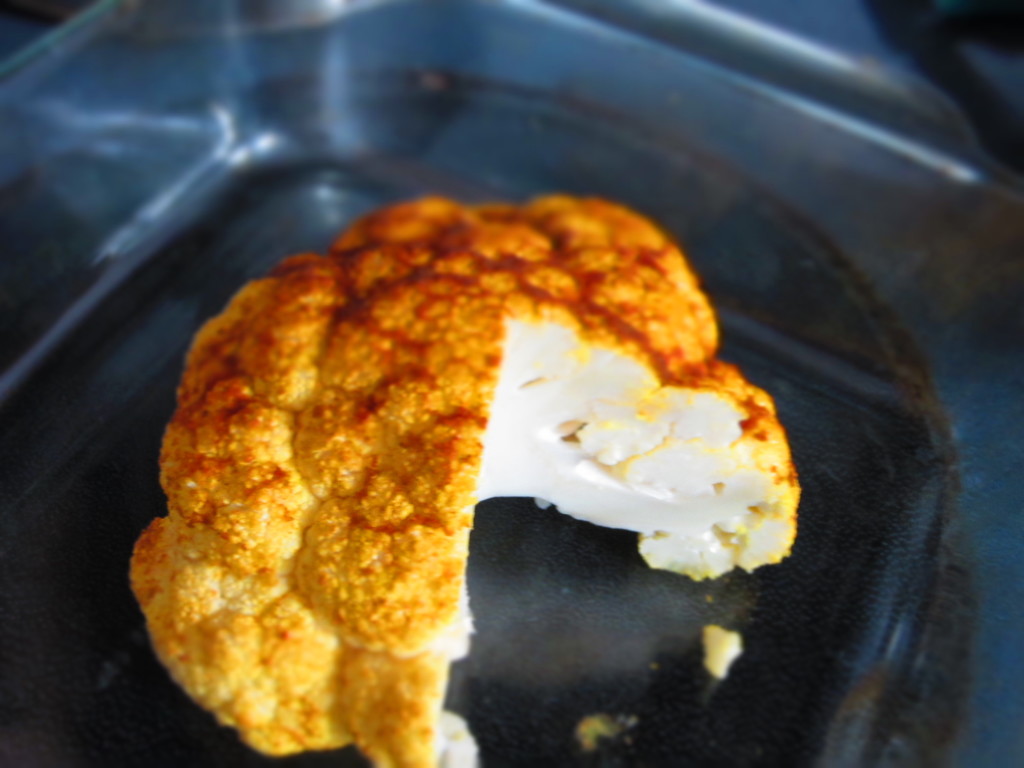 Have you ever wanted cauliflower but though twice because you didn't want to have to cut it into florets? Have you ever just not wanted cauliflower because you figured it had lack of flavor and wouldn't add much variety to your meal? I've been both places, and hopefully this solves both of those problems!!!
Take your whole head of cauliflower, douse it with olive oil, sprinkle a spice mixture on top and rub it in! That's it! It took about 3 minutes to do. Then I just put it in the preheated oven and let it do it's thing! Talk about easier than cutting it all up and then boiling or steaming it!
I think I saw this idea on foodnetwork, or some other random food site I was on. The spice mixture is my recipe, so I'll take the credit for that!
A quick note: I wouldn't worry too much about the amount of the spice mixture you put on. If you think there is too much, there is probably not!!! You are only putting that spice mix on the outside, when you cut it up there will be plenty of plain cauliflower in the middle to balance out the flavors on the outside.
Roasted Cauliflower
by: Becca Fillmore, dinnerforeveryone.com
1 small-medium head cauliflower*
olive oil
1/2 teaspoon curry powder
1/2 teaspoon garlic powder
1/4 teaspoon cumin
1/4 teaspoon paprika
Combine curry, garlic, cumin, and paprika. Cut off all leaves and as much of the stem of the cauliflower as possible. Liberally drizzle olive oil over top cauliflower head and brush or rub it over the entire thing (even the bottom). Sprinkle the spices over top and rub to help coat the entire head. Place in a preheat 350 degree oven for 45 minutes.
*If you have a large head of cauliflower, simply double the spice amounts