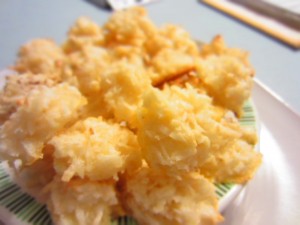 This coconut macaroon recipe itself is from a church cookbook that I have. The variations are from yours truly! I was making them and wondering what I could do to put a twist on this already delicious dessert that would balance with the sweet treat and not take away from it. My favorite version that I came up with was the Salted version. Salty and sweet all in one bite! It brings out the coconut flavor and sweetness but the salty bite is definitely present.
This is such an easy one for the holiday season! It takes about 5-10 minutes of prep time and no time at all to cool off. So if you are leaving for a party in an hour and you have to bring something, you've got time to make these and you will be sure to impress!
1 1/3 cups flaked coconut (I used sweetened coconut and it tasted great)
1/3 cup sugar
2 tablespoons flour
1/8 teaspoon salt (exclude if making the salted variation)
2 egg whites
1/2 teaspoon vanilla
Kosher, Himalaya, or Sea Salt (basically a salt the has a bigger crystal than table salt)
In a small bowl, combine the coconut, sugar, flour, and salt. Stir in egg whites and vanilla. Drop rounded teaspoons full of batter onto greased cookie sheet. Sprinkle Kosher, Himalayan, or Sea salt on top.* Bake at 325 degrees for 18-20 minutes or until golden brown. Makes about 1 1/2 dozen.
*other yummy variations: Replace salt with Nutmeg, Cinnamon, or Allspice!