Shrimp can be simply dressed to really make a statement. Cilantro, lime, roasted garlic, red pepper flakes, and a little olive oil is really all it takes!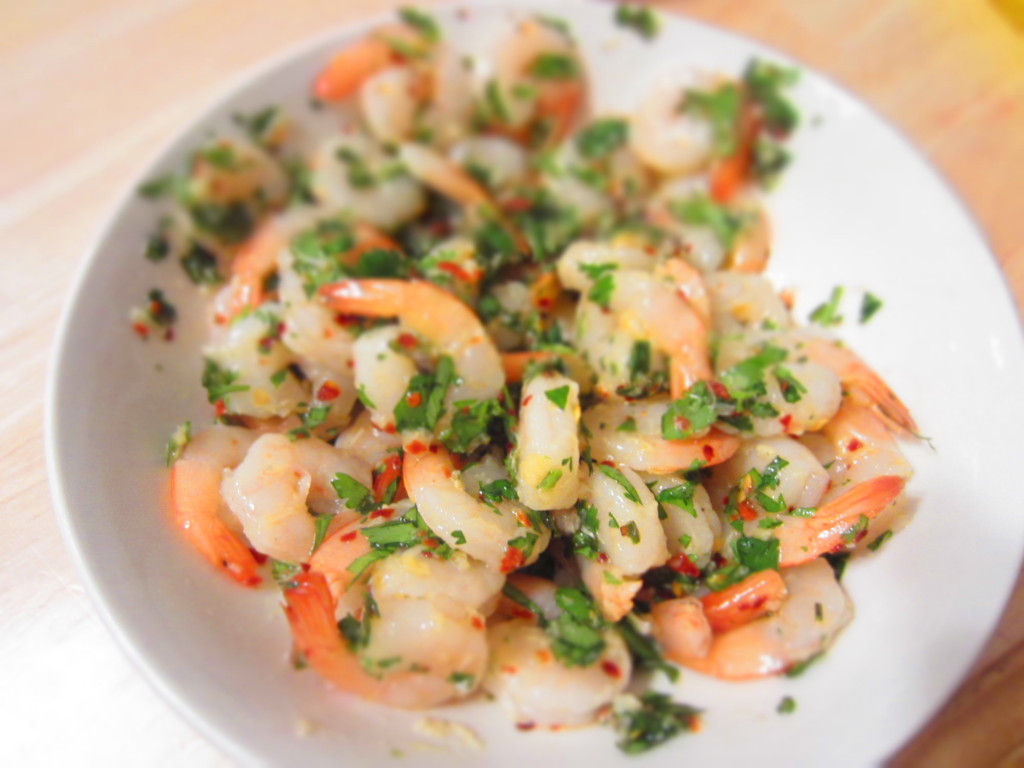 My kids actually like shrimp…which I think is kind of weird. But I'll take it! They like plain shrimp and had been asking for it. I was all about shrimp, but wanted something more than plain shrimp. I've made buttery garlic shrimp before, which is delicious, but I wanted more! I left some plain shrimp for my kids and made up a wonderful dressing to put over the remaining.
First off I used pre-cooked, frozen shrimp. It made it so much easier of a dish to make. I really just needed the simple factor the night I made this. So I went with pre-cooked. You can use fresh shrimp that isn't cooked yet, just make sure to cook it through before you toss it with the dressing. I just thawed my shrimp out to room temperature. NEXT: I roasted some garlic (ok are you drooling already? I was! Roasted garlic is a weak spot for me) and minced that and combined it with chopped up cilantro, some lime juice, olive oil, and a bunch of crushed red pepper.
It was fresh thanks to the lime and cilantro, it was rich thanks to the roasted garlic and and olive oil, and hot thanks to the red pepper. Pretty much a combination of everything I love.
I was so happy with how it turned out. I really couldn't have been more pleased. I served it on rice, which offered a nice balance to counter the heat. The only thing I wish I would have done is remove the hard tails so I could just toss it in with my rice. Next time!
These could be easily put out for an appetizer at a party. I'm sure it would be a crowd pleaser! It's a great gluten free food for those of you who need that! For those of you who don't need g-free, not a big deal. You don't eat this dish thinking of it as gluten free anyway, so you're good! You'll enjoy it, I promise. The great thing about this dish is that it is that is seems like it takes a lot of ambition to make it. It sounds fancy, it looks fancy, it even tastes fancy! Really though, it is quite simple to make. It uses simple ingredients and it is simply delicious!
I love how much the combination of simple ingredients can make such a huge impact!
Real Life Moments: 
My daughter ended up trying some of the Cilantro Dressing Shrimp. I asked her if she liked it and she nodded enthusiastically "Yes…I NEED WATER" I think it was a little hot for her, but she tried it. That is a win for me!
My son really likes animals, all kinds. He kept calling the shrimp "krill" because we had been reading a lot of whale books at that point. It was awesome.
We told the kids to not eat "the hard parts" of the shrimp. We looked over at our daughter's plate after we were well in to the meal and it was completely empty….no "hard parts" anywhere to be seen. Whoops! She giggled when we asked where the "hard parts" were. She survived.
Shrimp with Cilantro Dressing
By Becca F. Fillmore, dinnerforeveryone.com
12 ounces frozen pre-cooked shrimp (you can use fresh shrimp too, just cook it properly)
1 tablespoon roasted garlic, pressed or minced (about small head of garlic)
1 1/2 tablespoons  freshly squeezed lime juice
1/2 cup cilantro
1 teaspoon crushed red pepper flakes (less if you want less heat)
1 tablespoon olive oil
Thaw shrimp and remove hard shrimp tails. Making roasted garlic is actually so simple! Go HERE to find pictures to go with the instructions found below. Use your garlic press to press each clove of the entire head of garlic. If you don't have a garlic press, get chopping and mince each clove of garlic. Combine chopped garlic, lime juice, cilantro, crushed red pepper flakes, and olive oil in a small bowl. Toss with shrimp (it can be warm or room temperature). Serve over noodles, rice, or plain.
Roasted Garlic
by: Becca Fillmore, dinnerforeveryone.com
1 head of garlic
2 tablespoons olive oil
tin foil
Chop off the top of the head of garlic, but keep the head together as best you can. Put it in a nice large square of tin foil, wrap the foil around it a bit and drizzle it with olive oil. You can close the tin foil around the garlic or keep it open. Bake it at 400 degrees for 15-30 minutes. At 15 minutes it will be slightly tender, at 30 minutes you will basically be able to spread it around like butter!
If you are using it in a recipe that calls for minced roasted garlic 15 minutes is enough. If you are wanting to spread it on something, I'd more for the 30 minute time slot!