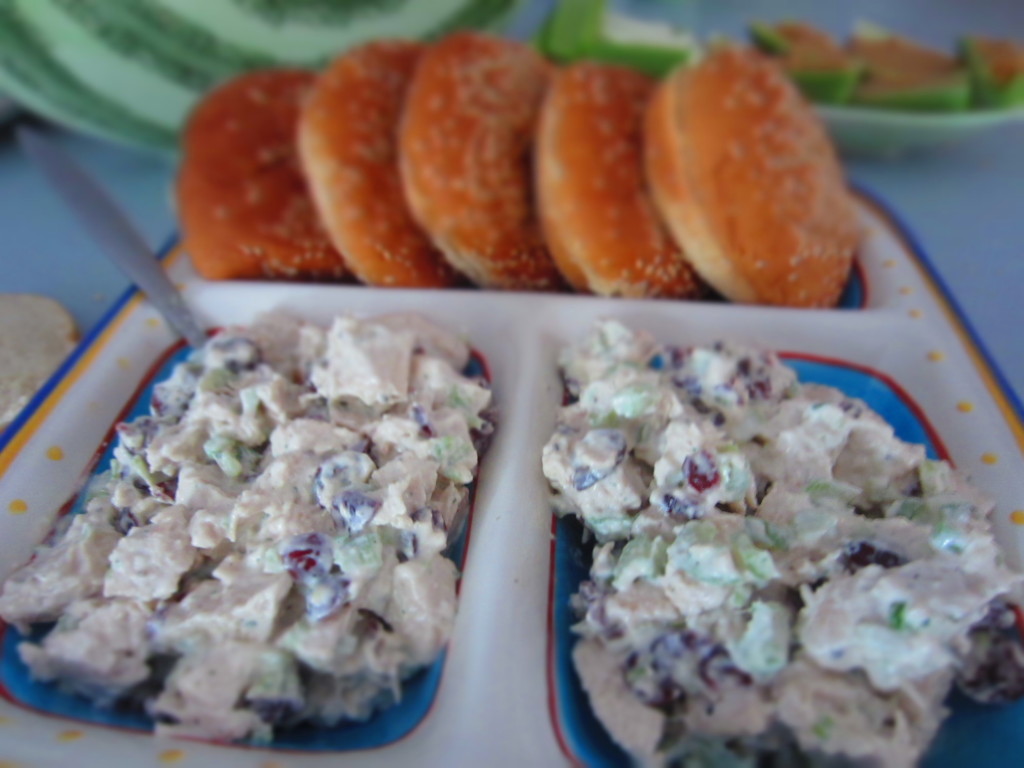 I decided to try out the traditional Chicken Salad Sandwiches. I have tasted some delicious versions of this in my life. I am thinking of one in particular really. A woman at my church makes THE BEST! Everyone raves about it and when asked, she brings gallons of it to church functions. What a trooper! I thought I'd take a crack at it and in my opinion, this version of the recipe didn't fall short! This savory sandwich has green onions, some parsley, and dried cranberries to give it just a hint of sweet.
I really love this meal in the summer time, but it is great for parties or an easy dish any time of the year. It's great because you can make it early in the day and eat it that night. You can make it and eat it right away, it just…flexible! I like flexible.
The thing that sets this dish apart from others of it's kind is the chicken itself. I baked it with lemon pepper seasoning on it, then let it cool and combined the chicken with the rest of the ingredients. I think the lemon pepper seasoning gives it just the right punch without overwhelming the entire sandwich.
Once you make this one time you will want to make it again if you are like me. I think this will be a regular in my fridge all summer long!

Simple Chicken Salad Sandwiches
by: Becca Fillmore, dinnerforeveryone.com
1/2 teaspoon lemon pepper
1 1/2 pounds chicken breast
1/3 cup diced celery (about 1 stalk)
1/3 cup dried cranberries
2/3 cup mayonnaise
2 tablespoons diced green onions
1/2 teaspoon dried parsley
1/2 teaspoon garlic salt
salt and pepper to taste
Sprinkle raw chicken with lemon pepper seasoning. Bake until chicken is cooked through (350 for approx. 35 minutes). Let chicken cool and cut into square chunks, this will equal about 2 1/2 cups of chicken. Combine chicken with remaining ingredients. Serve cool or at room temperature on a roll!