This recipe came about when my husband went grocery shopping and couldn't find Parmesan cheese.  You may like to know, this situation is how many (and when I say many of, I mean most of) my recipes come from. Either we are out of most of our food so I have to make something up or my husband buys a "substitute" that really isn't a good substitute. I am glad this happens though, because I probably wouldn't have this website if it weren't for all of these situations!
I was going to make Parmesan chicken, but I couldn't really pull that one off with feta! So I came up with an easy recipe that  only takes about 5-10 minutes prep time and has a really great flavor!
This recipe makes a lot of food, but you can easily just use less chicken and sprinkle the spices over top the chicken to your taste without measuring them out. Feel free to put more or less of the spices I have listed to your liking. This is more of a guideline! Enjoy!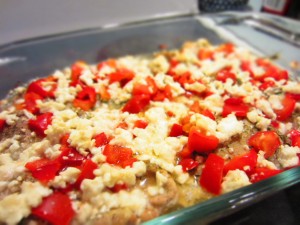 Simple Feta Chicken
3 pounds chicken thighs*
1 teaspoon parsley
1/2 teaspoon garlic powder
1/2 teaspoon onion powder
1/2 teaspoon thyme leaf
1/2 teaspoon ground oregano (1 teaspoon if using non-ground)
1/2 teaspoon salt
1/4 teaspoon pepper
1 cup chopped red pepper
5 ounces feta cheese
Preheat oven to 350 degrees. Place chicken thighs in the bottom of a 9×13 pan. Combine parsley through pepper. Sprinkle half of the herb mixture over top chicken, flip the chicken, and sprinkle the rest of the mixture over.  Sprinkle 1 cup chopped red peppers over top and finish it off by sprinkling the feta cheese over top all the chicken. Bake at 350 degrees for 35 minutes or until the internal temperature of the chicken is 170 degrees.
*If you aren't using 3 pounds of chicken thighs still make the herb mixture as written and sprinkle generously over chicken. Reserve the herb mix for future use (can be used as a baked potato topping or a roasted vegetables seasoning along with many other chicken dishes)