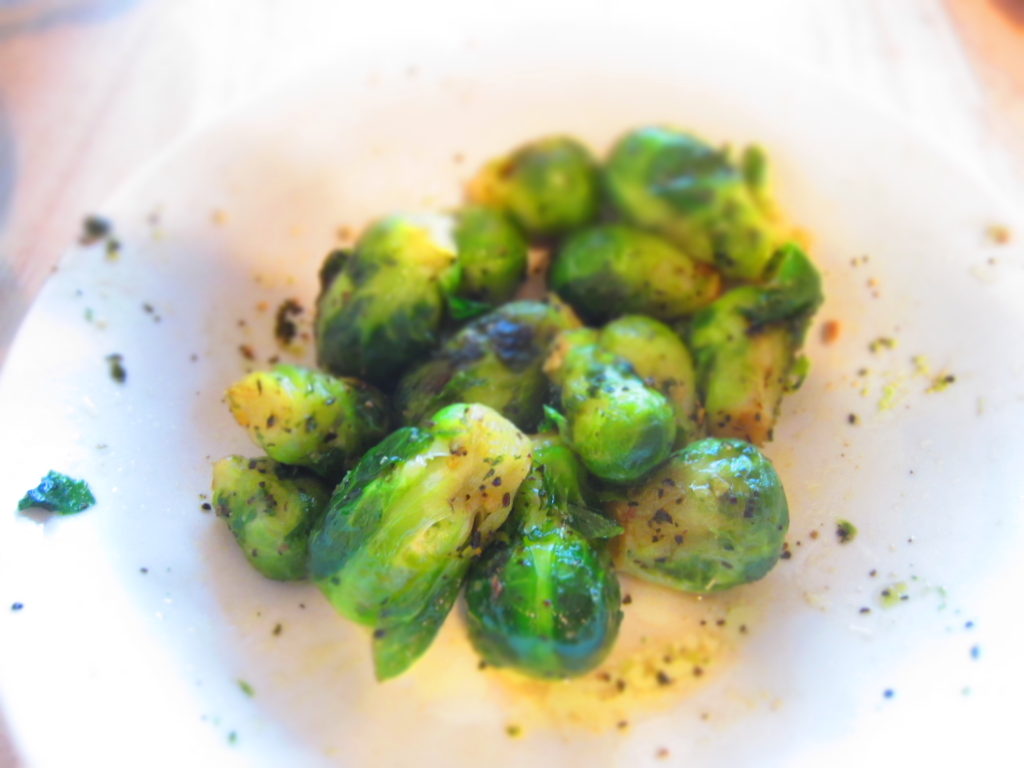 I like brussel sprouts, I saute them on the stove top quite a bit…but they don't quite do it for me. Every time I eat them it's almost anti climactic. Which is sad. So the other day I came home the my husband Matt had cooked dinner. I gratefully partook. Then I tasted the brussel sprouts. Excepting them to be like mine, I took a bite. No big deal……just kidding….huge deal! BIG! HUGE! DEAL!
What the heck? These were the best brussel sprouts I'd ever eaten. I just kept going and going and eating and eating. Yes, brussel sprouts were having this kind of effect on me. This was not just because it was a dinner I didn't have to make. Matt makes me great dinners all the time, these brussel sprouts just really hit the mark. I LOVE brussel sprouts when they are made like this!
Naturally I quickly got out the camera and took a picture before devouring the rest of the them. Then I made him explain to me in detail how he made them, this way I could replicate it….haha not really. I'm going to make him make the brussel sprouts from now on. I made him tell me so I could tell you!
Stove Top Brussel Sprouts
By: Matt Fillmore, dinnerforeveryone.com
1 pound bag of frozen brussel sprouts
2 tablespoons olive oil
2 tablespoons butter
water
dried basil (to taste)
steak seasoning (to taste)
Heat 1 tablespoon olive oil and 1 tablespoon butter in a frying pan. Add frozen brussel sprouts and saute until they have turned green, but not cooked through (just about 3-5 minutes).  Add water into your frying pan until the brussel sprouts are almost covered with water. Bring the water to a boil and let the water boil until there is no water left. Add remaining 1 tablespoon olive oil and 1 tablespoon butter into the pan. Saute for another 3-5 minutes. While sauteing add plenty of dried basil and steak seasoning to your taste.