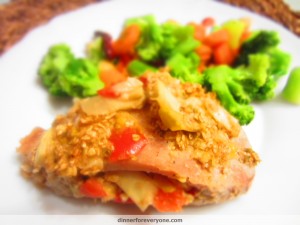 I thought this would be a fun recipe to try to make my own. I was inspired to make stuffed pork chops when I was looking through a recipe book. To be honest I don't really know what their recipe consisted of. I just thought it was a good idea so I decided to make my own version.
These really are filling. The pork chop is stuffed with vegetables and herbs whos flavors blend really well with each other and the meat. I used creamed corn on accident, but it ended up working great! Instead of having to use an egg to make everything stick together the creamed corn achieved that, and now it doesn't leave you with huge chunks of corn throughout the stuffing.
I served this meal with steamed vegetables, but because it's such a hearty dish a light salad on the side may give it just the balance you want. Unless you are my husband, then potatoes and gravy are the perfect side for this dish, because in his world, those are the perfect sides to every dish!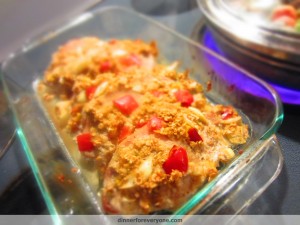 Stuffed Pork Chops
DFE original by Becca Fillmore
4 thick cut pork chops cut with a slit in the side (I'd suggest using kitchen shears)
Stuffing
2 tablespoons olive oil
1 red pepper, chopped
1 small onion, chopped
2 cloves garlic, minced
1/2 cup creamed corn
1/2 tablespoon Worcestershire sauce
1 tablespoon steak sauce
1/2 teaspoon salt
1/4 teaspoon pepper
1 teaspoon oregano
1/8 teaspoon sage
1/2 cup quick oats
Sautee peppers, onion, and garlic in olive oil until onions start to turn opaque and garlic is fragrant. In a bowl pour in sautéed vegetables and combine it with the remaining ingredients. Stuff mixture into pork chops, place chops in pan and sprinkle remaining mixture on top. Bake at 350 degrees for 35-40 minutes or until pork chops are cooked through.