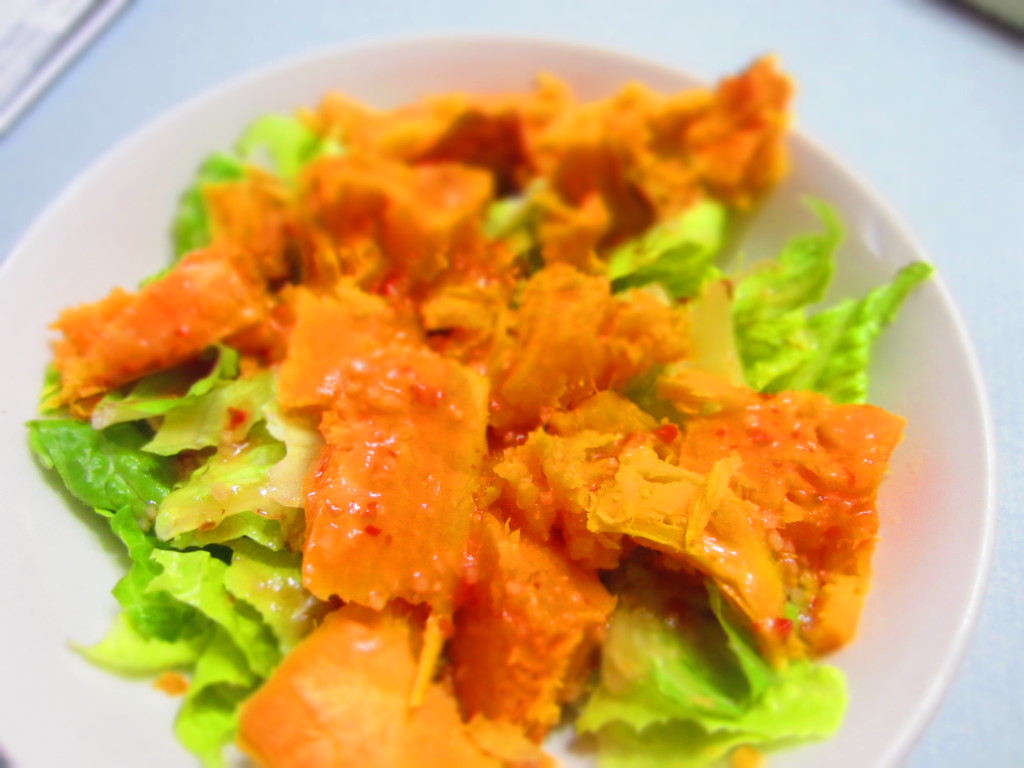 This is so simple and could be eaten as a main dish or side dish. I love sweet potatoes and eat them in all different ways. This is a simple lunch I make often, and I love it! It is satisfying, yet, because it has lettuce involved it keeps it from being too heavy. 
You can either bake your sweet potato in the microwave or the oven. Remember to poke holes in your potato so it doesn't explode on you! In the microwave it only take about 7 minutes, depending on the size of the potato. In the oven, at 400 degrees it gets done in about 25-30 minutes. When to potato is tender simply cut it open and let it cool while you get a bed of lettuce ready. Cut the inside part of the potato out and put it on the lettuce and top it with Italian dressing. The zesty flavor from the dressing pairs perfectly with the sweet of the potato! It's so delicious!!!
This dish is great for a lot of different occasions. It's a unique side dish to serve, or you can serve a potato per person and you have a full, vegetarian main course. It's gluten free (as long as your salad dressing is), and it also fits into that comfort food category, score! As you can see it reaches a lot of different attitudes and walks of life, but not matter what, it's delicious.
Sweet Potato Salad
by Becca F. Fillmore
1 sweet potato, baked
1-2 cups lettuce, shredded or torn into chunks
desired amount of Italian dressing
Cut out the middle of the sweet potato and place it on top of a bed of lettuce. Top with Italian dressing and serve. As a main dish, this is one, large serving.